Wake up to luxury retirement living in Worcester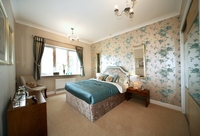 Those dreaming of a five-star lifestyle for their retirement could be in for a rude awakening as Eastbank Court and Eastbank Lodge in Worcester near a sell-out.
There are now only three brand new apartments at the luxury Aspen Retirement development. There's a one-bedroom home in the main complex and two generously proportioned two-bedroom apartments in Eastbank Lodge. Both options give homeowners access to a wealth of communal facilities and the support of friendly staff, perfect for those who want to relax and take things easy in later life.
With research from the Sleep Council suggesting that 30% of people sleep poorly most nights, largely because of stress or worry, followed by a partner snoring, grinding their teeth or stealing the bedcovers, older people are being encouraged to wake up to the advantages of moving to a retirement apartment.
Aspens Glenys Bastin explained: "As people get older their sleep quality declines and they experience a change in sleeping patterns. Weight gain and loss of muscle tone, along with hormonal changes, can mean snoring intensifies with age and this can have an adverse effect on a partner's sleep; while worries about managing a home that's too cumbersome can also keep people awake.
"The solution could lie in a move to Eastbank Court and Eastbank Lodge as homeowners have less to worry about; they can dine in the on-site restaurant and won't have to worry about housework as regular domestic help is included in the service charge. Plus with two-bedroom apartments available there's even the option to have their very own 'snore room' so that one person isn't kept awake by the other's snoring!"
Prices at Eastbank Court and Eastbank Lodge are from £199,950 to £247,950. The apartments feature fully integrated appliances including a washer/dryer, gas central heating and bathrooms with both a bath and separate walk-in shower.
Homeowners will be able to enjoy living independently with access to hotel-style facilities including hair salon, library, activities room, licensed restaurant and beautiful landscaped gardens. They will also benefit from regular domestic help and the support of friendly staff, available around the clock, with the option to add extra care if required.
The properties are exclusively available to those aged 60-plus. Those aged 70 and over could use the Aspen Equity Share scheme, whereby they pay just 80% of the price with Aspen retaining a 20% share.
Aspen is also offering to save customers thousands of pounds by covering various fees including service charge, ground rent, rental of a car park space if required, and a contribution to the reserve fund for the long-term maintenance of the development. The company will even pay £1,000 towards the cost of removals
Along with the final three brand new apartments a small number of resale apartments are also available within the development.
Located on Eastbank Drive, in the Northwick area of Worcester, Eastbank Court and Lodge are ideally placed in a quiet residential area. There's a post office, shop and chemist just 250 yards away, as well as the bus stop for journeys into the city centre. Motorised scooters available for homeowners to hire, showing every little detail has been considered.
For more information see aspenretirement.co.uk/developments/eastbank-court.