First homes released for sale at Cherry Orchard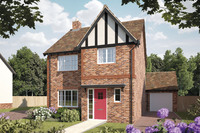 The first homes have been released for sale at Bellway's second development in Bevere.
A range of two and three-bedroom homes are now available to buy at Cherry Orchard, a development of 128 new homes which is being built on land off Ombersley Road.
The development follows Cherry Tree Park, Bellway's first development of homes in the village, which is now almost complete.
Sales and Marketing Director for Bellway's West Midlands division, Stephen Rose, said the new homes had been eagerly anticipated by home-hunters in the area.
He said: "We're delighted to release the first homes for sale at Cherry Orchard and continue our work in Bevere.
"Cherry Tree Park has turned into a fantastic new community and we're hoping that Cherry Orchard will follow suit.
"The homes on this development feature different designs to Cherry Tree Park to make sure both new developments have their own unique character, but all have been designed to sit well within their surroundings. There is a good range of homes being built here as well, to make sure that we are providing for buyers at all stages of the property ladder.
"Ever since we started work here, the waiting list for information on these homes has been growing, and we have seen lots of enquiries and interest in the homes here so far. We're looking forward to welcoming people to the development soon, and hope they will be impressed by the homes on offer here."
As part of the planning agreement for Cherry Orchard, over £1.4m will be invested in community infrastructure. Over £420,000 will go towards the Worcester Transport Strategy, while a further £305,000 will be invested in education in the area.
A further £130,000 will be spent on off-site sports facilities, while contributions will also be made to bus services, bus shelters, walking and cycling routes, highways improvements, public art, recycling and public open space maintenance.
The first release of homes at Cherry Orchard includes a range of two and three-bedroom houses, with prices starting from £214,750. A sales office will be opened to the public in the new year, and a showhome will open shortly after.
For more information about the homes available at Cherry Orchard, visit bellway.co.uk.