Young drivers feel the pressure of high insurance premiums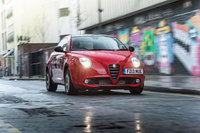 Young drivers feel pressured into buying cheaper, older cars because they can't afford to insure newer, safer models, according to a new survey of 1,300 drivers aged 17-24.

Nearly half (41%) of those surveyed by Alfa Romeo and Marmalade also think that being forced into less advanced vehicles is part of the reason that young people are involved in more motor accidents than any other age bracket.

Drivers aged 17-24 are involved in around 18% of all vehicle incidents on UK roads. Fatalities in reported accidents involving young car drivers accounted for 22% of all road deaths in 2011, according to the Department for Transport.

Despite that, a 63% majority think it is wrong for young drivers to be charged higher premiums because of their age and nearly three quarters (73%) claim they were forced to opt for an older car, increasing their risk of an accident, because of the cost of car insurance.

While almost all respondents (97%) said that having a car was important to their sense of independence or freedom – with 70% even considering it a rite of passage for young adults – more than four in five (81%) said they are reliant on their parents for financial support to get a first car.

The survey was carried out by Alfa Romeo & Marmalade to support the launch of the Alfa MiTo Live, a limited edition available with Marmalade telematics insurance aimed at providing a stylish, yet affordable new car option for young drivers, reducing premiums by as much as 50% in the first year.

When asked if they would be happy for their parents to be able to monitor their driving if it made their insurance cheaper, 78% of respondents said they would be happy to use the telematics technology, with a further 16% saying 'it's not ideal' but it wouldn't stop them.

Damien Dally, Head of Brand, Alfa Romeo UK said; "Young drivers are having to pay increasing amounts of money just to get behind the wheel of a car and often a new car is totally out of the question, despite the obvious benefits of safety, efficiency and modern technology.

With the Alfa MiTo Live, fitted with Marmalade's telematics insurance system, there's a new affordable and desirable option. Based on our research, it's a package that should strike a chord with those young drivers looking to get behind the wheel, perhaps for the first time."

The Alfa MiTo Live is powered by the multi-award-winning TwinAir engine and features a BOSE sound system and Pioneer's innovative AppRadio system which lets users connect and access their smartphone's apps through a touch screen. The MiTo Live is offered with Marmalade telematics based insurance, potentially reducing insurance premiums by up to 50%.