The flags are out for the Isle of Wight's beaches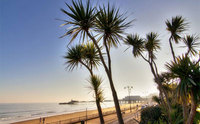 With summer here, and the school holidays just around the corner, the Isle of Wight is celebrating more Blue Flags and Seaside Awards than ever before.
In total, the Island now has four Blue Flag beaches, compared to three in 2012, as well as a highly impressive 13 Seaside Awards - which is two more than last year. The prestigious Blue Flag scheme and Seaside Awards are run by the Keep Britain Tidy Group. Sandown and Ventnor beaches have retained their Blue Flags, while Yaverland and Colwell have been awarded flags - the latter being given the award for the first time in over two decades.
All four beaches have also been given Seaside Awards - along with Cowes, East Cowes, Springvale, Seagrove, Gurnard, Ryde East, St Helens, Totland and Shanklin. The total of 17 awards means the Isle of Wight is once again the number one region in the South East for award-winning beaches, with Torbay in second (with 14 awards) and Thanet in third (with an even more distant 13).
The Island's beaches, of course, are merely a part of the summer story for 2013, with Blackgang Chine - regarded by most people as the oldest theme park in the UK - celebrating its 170th birthday this year; and Osborne House once again lining-up another season of traditional Punch & Judy shows on its recently re-opened beach.
Another ever-present on the Island's packed summer calendar of events is Ryde Carnival, which takes this year place on August 17th, and will be celebrating its 125th anniversary - making it the oldest carnival in the UK.
Also "new" for 2013 is the Isle of Wight Chilli Fiesta on July 27th and 28th, which will now join the Isle of Wight Garlic Festival on August 17th and 18th, and the Isle of Wight Sweecorn Fayre on the 29th-30th September.
The Summer of Music, which started with the Isle of Wight Festival, and ends with Bestival from Septemebr 5th to 8th, also includes the Midsummer Jazz event at Isle of Wight Steam Railway on June 29th, and the Rhythmtree World Music Festival from July 19th to 21st.
And the Ventnor Fringe, which takes place this year from August 14th to 17th, will feature both established and emerging talent, in a veritable feast of performing arts, visual arts, music, comedy and film with special events in various locations across Ventnor.
All of this, of course, comes on top of the Isle of Wight's "Year of the Dinosaur", which is currently grabbing the headlines world-wide thanks, largely, to a new App which from June 21st will allow all visitors to the Island to be photographed walking with dinosaurs at six separate locations around the Island - all of which are connected by a new bus service along the south coast of the Island.
For full details of all events and activities on the Island during the summer holidays, visit visitisleofwight.co.uk.