All-new Range Rover Sport takes on mighty Spitfire at Goodwood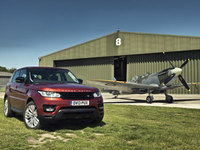 Two supreme examples of British engineering, the All-New Range Rover Sport and the legendary Supermarine Spitfire, have engaged in a unique duel to measure their off-road mastery.

The Range Rover Sport, the fastest production Land Rover to date, representing the latest advances in all-terrain performance has been pitted against Britain's most famous fighter aircraft in a high-speed off-road race along the grass airstrip at the Goodwood Aerodrome in Sussex. Land Rover was invited to take part in the challenge, formulated by Goodwood's FortyOneSix.com website. It provided a perfect curtain raiser for this weekend's Festival of Speed, where the new Range Rover Sport will be making its UK dynamic debut.

The race – the first of its kind at the airfield – involved a straight drag run down and back on the runway, punctuated by a nimble U-turn. It was particularly challenging being conducted on the bumpy grass airfield, notorious for being a low traction surface.

The Vickers Supermarine Spitfire lined up for the contest was a 1945-vintage model, piloted by Matt Jones from the Boultbee Flight Academy. Powered by a 1,750bhp V12 Merlin engine, it has a maximum airspeed of 400 mph, and its typical acceleration on take-off is up to 80mph before the wheels leave the ground, making it a strong contender for victory against the Land Rover.
Mike Cross, Jaguar Land Rover's Chief Vehicle Integrity Engineer, was at the wheel of the All-New Range Rover Sport, a 5.0-litre supercharged V8 model with 510 hp on tap. Even though grass is one of the most challenging terrains on which to gain traction, for both acceleration and breaking, Cross still managed to clock a top speed of 130 mph before braking for the mid-race turn.

The turn manoeuvre was helped by the Range Rover Sport's new Torque Vectoring technology, which contributes to stable and secure cornering by applying appropriate braking to the inside wheels.

Cross explained that Land Rover was pleased to take up the challenge: "The team couldn't resist the challenge laid down by FortyOneSix.com and to race such a British icon.

"It's always difficult to find traction from a standing start on grass, but the Range Rover Sport made a great launch off the line. I was surprised by how bumpy the course was as I accelerated up to 130mph, and of course the other extreme challenge is to brake in time for the turn-around, but the car felt composed throughout the whole run."