Mazda6 and CX-5 now available on Motability scheme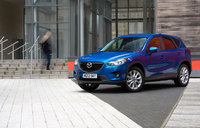 Mazda is giving Motability eligible drivers an extra bonus this summer by adding the all-new Mazda6 Saloon, the Mazda CX-5 compact SUV and the automatic version of its iconic MX-5 sportscar to the line-up of new vehicles available through the Mazda Motability campaign.

As well as introducing several new models to the Mazda Motability campaign this quarter, meaning at least two derivatives of every Mazda model are now available, Mazda is continuing its extremely competitive offers across the range. These include compelling NIL Advance Payment offers as well as a reduction in Advance Payments on both the Mazda3 Tamura and Venture diesels (now available from £799) and both spacious and practical seven-seat Mazda5 Venture MPV models (now available from £1,799) – until 30 September.

"Introducing our sixth-generation all-new Mazda6 Saloon and Mazda CX-5 compact SUV models onto the Motability scheme creates Mazda's strongest ever, most appealing ownership proposition for customers in this sector of the UK market," comments Mazda Head of Fleet Steve Tomlinson, responsible for the Mazda Motability programme.

Four new Mazda6 2.0-litre SKYACTIV-G 145ps petrol models are available with Advance Payments ranging from £899 (for the manual SE) to £1,649 (SE-L Auto Nav). In addition four Mazda CX-5 2.0-litre SKYACTIV-G 165ps petrol manual two-wheel drive models are available with Advance Payments ranging from £999 to £1,999.

Further down the Mazda range four of the Mazda2 5dr models are available at NIL Advance Payment, including the outstanding Mazda2 1.5-litre 5dr TS2 Automatic, with all models boasting fantastic levels of standard specification. Similarly, the manual and automatic versions of the larger, Mazda3 1.6-litre 5dr Tamura petrol models are available with NIL Advance Payment. Boasting generous standard specification that includes 17-inch alloy wheels, sports styling kit, front fog lights, CD player with 6 speakers, and heated power-folding door mirrors, the Mazda3 Tamura offers outstanding value. The automatic is now one of only four vehicles available in this segment available at NIL advance payment.

Demonstrating once again the 'defy convention' spirit of the brand, Mazda is also offering the soft-top Mazda MX-5 1.8-litre 126ps SE Air Con for an advance of just £199, the similarly powered Roadster Coupe for £999 and, new this summer, the automatic 2.0-litre 160ps Powershift Roadster Coupe at £2,999.

"Our upgraded Motability campaign for the summer months offers such great customer benefits that I'm confident they will be extremely attractive to both existing and new customers eligible for the Motability scheme. In addition, the broader choice of models available – including automatic versions of the Mazda2, Mazda3, Mazda6 and MX?5 – will draw many Motability customers to the Mazda brand for the first time," adds Tomlinson.

Full benefits of the Motability scheme include three years insurance, servicing, maintenance and road fund licence, plus full RAC breakdown assistance. For more information, visit the 'Motability Offers' page on mazda.co.uk/offers/motability.