Experience the latest addition to the UNESCO World Heritage list in Qatar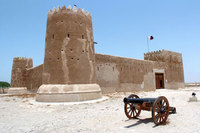 Visitors to Qatar can now experience the largest archaeological site to be inducted into the UNESCO World Heritage List, the town of Al Zubarah.
A historic coastal town that is now abandoned, Al Zubarah is situated approximately 100km north-west of Doha. Founded in the mid-18th century, the town developed into a centre for pearling and international trade and rose to become the country's largest and most important settlement.
The success of Al Zubarah attracted the attention of other Gulf powers, and after several attacks the town was eventually burned to the ground in 1811. It never fully recovered and was abandoned by the mid-20th century.
Today, the abandoned settlement is regarded as one of the largest and best preserved examples of an 18th to 19th century merchant town anywhere in the Gulf. Covering an area of 60 hectares, the archaeological site showcases remains of palaces, mosques, streets, courtyard houses, fishermen's huts, harbour and cemeteries. A layer of sand blown from the desert has preserved these remains, which now enable visitors from around the world to step back in time and experience the rich Qatari history.
Al Zubarah was first reported as an archaeological site by a Danish-led team of archaeologists in the 1950s, and then excavated by Danish and Qatari teams. As a result of the studies conducted at the site, a large number of archaeological finds from the 18th-19th centuries are now part of the National Museum of Qatar's (NMoQ) permanent collection, and will be featured in the museum galleries.
The Al Zubarah is the first Qatari site to be added to the World Heritage List, which includes more than 900 historical and cultural sites around the world including the Yellowstone Natural Park in the United States of America and the Pyramids of Giza in Egypt.
The addition further cements Qatar's status as a top destination in the Middle East, offering diverse attractions and experiences to suit all tastes.
The following operators offer 'North of Qatar' day tours, departing the city at around 9am and returning at 3pm.
Qatar International Adventures offers tours starting at 300QR (approximately £55) per person including a picnic lunch and refreshments. To book visit qia-qatar.com.
Qatar International Tours offers tours starting at 300QR (approximately £55) per person including lunch at a local café and refreshments. To book visit qittour.comor.
Regency Tours offers two options, a 'North of Qatar' itinerary which starts at 305USD (approximately £200) per person including refreshments, or a specific Al Zubarah Fort Tour which starts at 220USD (approximately £150) per person. Both tours return at 2.30pm. To book visit regencyholidays.com.
Multilingual tour guides can be provided upon request at an additional cost, all tour is subject to availability, individual terms and conditions apply and all tours are subject to a minimum booking of four people.
Qatar Airways operates five daily flights to Doha from London Heathrow and ten flights per week from Manchester Airport. Return flights to Doha with Qatar Airways start from £754, departing London Heathrow in July. Return flights are also available from Manchester Airport from £728. For enquiries or to book, visit qatarairways.com.
For more information on Qatar, visit qatartourism.gov.qa.