Fastback models to join all-new Mazda3 line-up for UK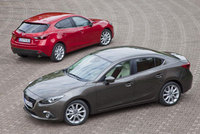 When the all-new Mazda3 goes on sale in the UK later this year, the model line-up will once again include two bodystyles – hatchback and fastback (saloon body-style). Like its new generation forerunners (Mazda CX-5 compact SUV and all-new Mazda6), Mazda's all-time global bestseller now gets the full range of lightweight SKYACTIV technology, which has been optimised, together with the latest adaptation of the company's KODO Soul of Motion design language, to best suit the smaller C-segment model's size and agility.

Mazda has created a truly passionate expression of dynamic motion and like previous KODO models, the all-new Mazda3 features a firm stance enhanced by the compact looking, cab-rearwards design. Lower and wider than the current model, the car's raked profile, rising dramatically towards the rear and bolstered by the boldly flared fenders and large sporty alloy wheels at each corner, conveys agility and strength.

The new Mazda3 hatchback and saloon share the enlarged 2,700mm wheelbase – the longest in the C-segment and 60mm longer than the current Mazda3's – which allowed designers to shorten the front and rear overhangs for a more powerful KODO-inspired stance, in the process creating more space for the engine and improving crash safety, too.

Both bodystyles are 40mm wider and 15mm lower than the current model, while the saloon features a different roof, rear window, rear wings and boot lid in a design which extends the overall length by 120mm to 4,580mm – compared to 4,460mm for the hatchback. For improved practicality, both models have rear seat backrests which fold almost flat and the saloon's boot opening width is increased by 100mm to 1,102mm so it can now accommodate three 67cm suitcases and has a total capacity of 419-litres.

All-new Mazda3 is a very 'clean' design aerodynamically, boasting among the best aerodynamics on the market, with fuel economy and stability enhancing Cd values of 0.258 (saloon) and 0.275 (hatchback). Despite performance-enhancing changes that normally add weight – such as bigger brakes and bigger wheels – all-new Mazda3 is lighter than the current model, with curb weights starting from 1,196kg (fastback) and 1,200kg (hatchback), making it one of the lightest C-segment cars.

The combination of low drag, low weight and super-efficient SKYACTIV engines and transmissions enables the new Mazda3 to deliver some remarkable fuel economy and emissions figures.

Buyers will be offered a choice of three naturally-aspirated high compression petrol powerplants and one turbocharged diesel – all fitted with i-stop, Mazda's idle-stop system, as standard. The high power SKYACTIV-G will also be available in the hatchback with the company's i-ELOOP brake energy regeneration system.

The 100ps SKYACTIV-G 1.5-litre petrol engine is a brand new, highly efficient and exceptionally frugal petrol engine, delivering up to 56.4mpg (combined cycle) paired with the six-speed SKYACTIV-MT manual gearbox. CO2 emissions are from 118g/km.

The SKYACTIV-G 2.0-litre petrol engine is available in standard (120ps) and high power (165ps) versions. The standard power SKYACTIV-G 2.0-litre is the most economical option combining first-rate fuel efficiency and CO2 emissions – 55.3mpg and 119g/km (manual) and 50.4mpg and129g/km (automatic).

Fuel consumption (48.7mpg) and CO2 emissions (135g/km) for the high power engine are very respectable for such performance – and 14 percent better than its 2.0-litre MZR DISI i-stop hatchback predecessor, despite generating 10 percent more horsepower and torque.

The 150ps SKYACTIV-D clean diesel delivers an unprecedented combination of excellent fuel economy and responsive dynamics, while significantly reducing nitrogen oxide (NOX) and soot emissions. High performance, with 380Nm of torque at 1,800rpm, is combined with fuel economy and CO2 emissions for the fastback of 72.4mpg and 104g/km (manual), and 58.8mpg and 127g/km (hatchback automatic).