Huw Edwards on voyage to find Welsh people who have shaped Australia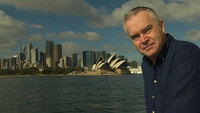 In a new programme for BBC Cymru Wales, Huw Edwards travels to Australia to discover the Welsh people, past and present, who have shaped the nation. In Wales In Australia With Huw Edwards he finds that Welsh people have played a big part in Australia's remarkable success story.
His voyage takes him through some of the most beautiful landscapes in the country. Some of the earliest Welsh Australians arrived there in chains and had no choice about their new home, whilst others went there looking for gold.
In an exclusive interview with Barry-born Julia Gillard, recorded at her official home in the capital, Canberra, before she was recently replaced as Australian Prime Minister by her own party, she stresses how important her Welsh heritage and values have been to her in her life and political career.
Huw also learns about Billy Hughes, who grew up in Llandudno and become one of Australia's early prime ministers. As well as being enigmatic, he was also extremely confrontational.
Huw meets David Crisp, a retired sheep-shearer from Northam, Western Australia. As a baby, David was reluctantly placed in a Swansea orphanage by his teenage mother. At the age of 7 he became one of the so-called 'lost children' when he was put on a ship and sent off to a boys' home near Perth, run by the Roman Catholic Christian Brothers.
Huw takes time out to pan for gold and then visits the Mechanics' Institute at Ballarat to find out about a 2-day Eisteddfod held there in 1863. There he also reads from "Diary of a Welsh Swagman 1869-1894" by Joseph Jenkins from Tregaron, which became a common school book in Australia. Jenkins moved to Australia at the age of 50 and spent 25 years there working as a manual labourer, writing the detailed and fascinating diary, before going back to Wales at the age of 76.
Huw Edwards says he was impressed by his first visit to the country: "I was intrigued by the prospect of seeing the great cities of Sydney and Melbourne, along with the remote expanse of Tasmania. It was every bit as friendly, sunny, open and welcoming as I had been led to expect. Sydney was even more impressive than I'd sensed from afar: the harbour is stunningly beautiful. We crossed the bay in bright sunshine early one morning and it was a magical experience."
He also admits that the country's attractions for Welsh people are as strong as ever: "Plenty of space. Good weather. An easy-going way of life. A better work-life balance. Good schools and hospitals. It's a very powerful mix. Those arriving more than a century ago were creating and inhabiting a 'new' country. Some were there by choice, others were not. But the attractions of landscape and climate have always been the same."
Wales In Australia With Huw Edwards - Thursday 18 July, BBC One Wales, 9pm