Iconic Corvette began 60 years ago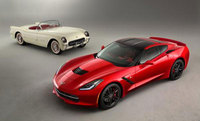 Chevrolet recently marked its 60th anniversary of the Corvette, an iconic American sports car. The first Corvette went into production in Flint, Mich. on June 30, 1953. Since then, Corvette has become an American icon that continues to offer the best in today's technology and performance.

"During the past six decades, the Corvette has been woven into the fabric of American culture, as the sports car of choice for movie stars, musicians and astronauts," said Chris Perry, vice president, Chevrolet Marketing. "The very best Corvettes represent the state-of-the-art for their eras in terms of design, technology and performance."

Here are some key facts highlighting 60 years of Corvette history:
Corvette is the world's longest-running, continuously produced passenger car. The longest-running vehicle of any type is the Chevrolet Suburban.
Corvette made its debut as a concept vehicle at the General Motors Autorama in New York City on Jan. 17, 1953. It was such a success that a limited run of 300 production Corvettes began on June 30 of that year.
All 1953 models were Polo White with a red interior and they were priced at $3,498. In 2006, the third 1953 Corvette produced sold for a record $1.06 million at auction.
Corvette was exclusively available with an inline six-cylinder engine until 1955. That year, the optional V-8 engine was ordered by 90 percent of buyers. The six-cylinder was dropped in 1956. Corvette has been available exclusively with V-8 power since.
Corvette was produced only as a convertible for its first 10 years. The fixed-roof 1963 "split-window" Corvette Sting Ray coupe launched the second-generation Corvette. Sales doubled and it became a year-round car for drivers in colder climates.
Approximately 1.56 million Corvettes have been produced since June 30, 1953. The 500,000th Corvette was built in 1977; the 1 millionth was built in 1992, and the 1.5 millionth Corvette rolled off the line in 2009.
Corvettes have been produced at three facilities: Flint, Mich. (1953); St. Louis, Mo., (1954-1981); and Bowling Green, Ky. (1981-2014). The change from St. Louis to Bowling Green happened during the production year. The first 1981 Corvette was built in St. Louis, and the last 1981 Corvette was built in Bowling Green.
No 1983 Corvettes were sold to the public. The model year was skipped in preparation for the all-new 1984 Corvette, which launched the C4 generation. Forty-four Corvette prototypes were built as 1983 models. Only one remains, and it is on display at the National Corvette Museum, in Bowling Green, Ky.

Founded in 1911 in Detroit, Chevrolet is the world's fourth largest car brand with annual sales of almost 5 million cars and trucks in more than 140 countries. Chevrolet provides customers with vehicles that feature spirited performance, expressive design, high quality and Chevrolet MyLink intelligent connectivity. The UK Chevrolet line-up includes the Spark, Aveo, Cruze Saloon, Hatchback and Station Wagon, Orlando, Captiva, the legendary Camaro and Corvette sports cars and the extended-range Volt electric car. In 2013, Chevrolet is launching the all-new Trax small SUV and the all-new Corvette Stingray. More information on Chevrolet can be found at chevrolet.co.uk.