Race a rubber ducky for charity at Yas Waterworld Abu Dhabi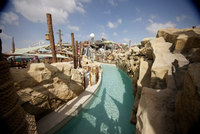 If there ever was a time to buy a rubber duck, this is it! Yas Waterworld Abu Dhabi is hosting the year's most fun charity event in collaboration with Make-A-Wish Foundation on September 21st at the waterpark's Yadi Yas wave river.
All those interested in taking part in the charity event – and getting a chance to win – can buy a rubber duck from 16 July to 21 September 2013 at Yas Waterworld Abu Dhabi or online on yaswaterworld.com for AED 30. Each duck will carry a serial number accompanied by a corresponding duck-cutout receipt, which will act as proof of purchase and can be used to claim the prize.
The ducks will be dropped into the Yadi Yas wave river on race day and the person who owns the first duck to cross the finish line will be declared the winner. Winners will be announced at Yas Waterworld Abu Dhabi on the day and online. The proud owner of the winning duck will take home huge prizes, with proceeds raised by the duck sales donated to the Make-A-Wish Foundation.
"Yas Waterworld Abu Dhabi is all about having unforgettable experiences and we wanted to do something fun that would get the community involved. The duck race also has an element of competition to make things interesting, and it's benefiting an amazing cause," said Mike Oswald, Park General Manager. "We are expecting to see our wave river turn yellow on the day. May the best duck win!"
The not-for-profit Make-A-Wish Foundation grants the wishes of children between the ages of 3-18 living with life-threatening medical conditions. Since it was started in 2010, the UAE chapter has granted more than 700 wishes to children, bringing joy to the kids and their families through its impressive and dedicated work.