&Beyond announces investment in East African lodge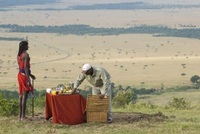 Leading experiential travel company &Beyond is committed to delivering extraordinary guest experiences and in line with this, the company has planned a considerable investment in its safari camps and lodges across Africa. The initial phase aims to redefine the classic Kenyan safari at the iconic &Beyond Kichwa Tembo Tented Camp. An extensive rebuild is currently underway and will be completed by July 2014.
Forming part of &Beyond's planned investment of ZAR 230 million (USD 23 million) into its luxury safari camps and lodges, 28 of Kichwa Tembo's tented suites and shared guest areas will take on a brand new look. The rich history, romance, nostalgia and classic safari charm that define Kichwa Tembo will be preserved.
Complementing the camp's enduring and timeless style, modular and contemporary guest areas will be designed to easily accommodate large numbers of guests in high season without losing the sense of intimacy in quieter periods. The camp will feature creative spaces for interactive food preparation, including its organic vegetable garden, which will become part of the guest experience.
One of the most celebrated features of &Beyond Kichwa Tembo is its extraordinary location and views of the surrounding private wildlife concession within the Masai Mara Game Reserve. By elevating some of the suites more guests can enjoy the world-famous view; 22 suites will overlook the Mara and six will sit in the forest canopy (with three of these forest suites also looking out over the Mara).
With the magnificent views very much the focus, the camp's bar will benefit from an added level, while a dedicated open air 'boma' area will be reserved for participative experiences with the local Maasai people. A unique interpretive naturalist library will invite guests to explore, while the
re-designed Safari Shop will showcase the finest Kenyan crafts.
While 28 of the camp's tented suites will be closed from 15 October to 30 June 2014, 12 luxury tents on the Sabaringo River will remain open throughout the rebuild, as will Kichwa Tembo's sister lodge, &Beyond Bateleur Camp. Currently held bookings for Kichwa Tembo will be accommodated at one of those camps during the rebuild. The newly redesigned and rebuilt camp will open for guests from 1 July 2014, with a soft opening in late June 2014.
"Kichwa Tembo was one of the first and most iconic permanent tented camps in the Masai Mara, and a favourite of many. We are extremely excited by this innovative design put together by our architectural team, which will literally bring the amazing views to life, creating a visual and emotional connection between the guest and one of the most phenomenal wildlife areas in the world today. The innovation continues inside as well, with unique features such as a butler hatch that will facilitate personalised wake-up calls with tea and coffee with minimum disturbance to the guest. We are confident that these features, alongside &Beyond's renowned hospitality, will make &Beyond Kichwa the leading camp of its size in the Mara, Kenya and indeed East Africa," says Mark Wheeler, &Beyond Regional Managing Director for East Africa and South Asia.