At last, Wild Camping comes to England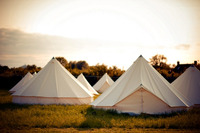 Wild Luxury, the award winning Norfolk glamping company, has just announced that it will be operating a "Wild Camp" on the popular North Norfolk Coast for this August. Wild camping is not permitted in England but legal in Scotland and Ireland. The Wild Camp is a very cool but totally transportable exclusive-use luxury camp. The camp moves every 28 days and therefore is not subject to normal planning restrictions and so can offer Wild Camping in total comfort in the most amazing places. Bookings for August 2013 have just opened.
The Wild Camp consists of 4 luxury bell tents with carpeting, tables, beautiful chandeliers and full-sized beds. There is a 5 metre lounge tent stuffed with comfy bean bags to chill and relax. A beautiful star canopy acts as an alfresco dining room with brazilian hammocks and huge outdoor firepit. The biggest skies in England are included for free.
The hub of the camp is Wild Luxury's incredible Wild Camp Support Unit, an RV style trailer containing a full kitchen with cooker, fridge freezer and hob. There is also a power shower and flushing loo. This is Wild Camping but with all the frills. The Camp sleeps 8-12 and is priced from £895 for a four day stay.
This private camp is always sited far from the maddening crowd but close enough to beaches and good local eateries to make the most of this popular part of England.
Wild Luxury already operates two popular luxury glamping sites in Norfolk. Wild Camp is the culmination of two years work to enable guests to enjoy an absolutely authentic Wild Camping experience without having to leave all their creature comforts at home.
For more information, visit wildluxury.co.uk.