Cool holidays to Iceland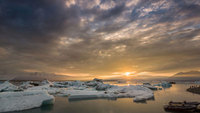 The best way of discovering the geothermal wonderland of Iceland is on foot, with its volcanoes, lava fields, hot springs, mud pools, waterfalls, mountain lakes, canyons and wooded valleys.
Five new seven-night walking trips have been launched by Macs Adventure, including the following:
Laugavegur Highland Trail
An eight-day, seven-night self-guided trip along Iceland's most iconic walking trail has been added to the new Macs Adventure website.
Starting with a stay in the capital of Reykjavik, the walking trail then sets off from the highland region of Landmannalaugar with its colourful rhyolite peaks and passes by deep gorges and yellow mountain ridges before you arrive at the first of four remote mountain huts.
Spot hundreds of steaming hot springs and mud pools and enjoy outstanding views across to the glacier Myrdalsjokull, and Eyjafjallajokull, the infamous volcano behind the 2010 ash cloud crisis.
The walking tour costs from £895 per person which includes three nights' accommodation in Reykjavik and four nights' accommodation in mountain huts, three breakfasts, transfers between your Reykjavik accommodation and the start/end of the walk, luggage transfer and a comprehensive information pack with detailed route notes for the trail and map.
South Coast Drive & Hike
A seven-night hike and drive trip which takes in many of the highlights which are spread out along the south coast. Travelling by car gives you the freedom to stop and enjoy fascinating walks past powerful waterfalls, immense lava fields, volcanic craters and shimmering glaciers.
The tour starts with a taste of the charismatic café-culture of Reykjavik, before heading eastwards into the countryside to the Golden Circle trio of Gullfoss waterfall, Geysir geothermal area and finally UNESCO World Heritage Site Thingvellir National Park, where you'll walk between the rifts in the earth's crust.
The trip costs £545 per person which includes seven nights' accommodation in handpicked hotels, breakfast, and all maps and route plans.
To book, visit macsadventure.com.
Flights to Reykjavik are not included and car hire is at an additional cost, but Macs Adventure can advise on the best value car hire and travel options at the time of booking including flights from £119 return in September with airlines including easyjet.com.