Have a healthy, happy holiday with fitness perks at Kimpton Hotels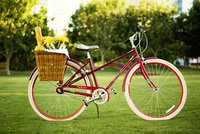 Health-conscious holidaymakers can stay fit and fabulous on the road with a range of wellness perks available at Kimpton Hotels & Restaurants across the USA.
Committed to helping guests maintain their sense of wellbeing, Kimpton offers a range of fun, endorphin-boosting activities that make it easier than ever to stay fit while away from home. From poolside Pilates and afternoon power walks to energetic Zumba classes and state-of-the-art fitness centres, Kimpton encourages visitors to bring their healthy lifestyle on holiday with them.
'Get Your Zen On' with In-Room Yoga Mats
Guestroom wardrobes at every Kimpton hotel are now stocked with custom-designed yoga mats, accompanied by a complimentary 'Roll-Out Service'. Upon request, a staff member will come to your room, roll-out the mat and set the TV to the on-demand yoga or Pilates channel for inspiration. The service includes extra towels, flavoured water, fresh fruit or an energising mix of dried fruit and nuts.
'Ready to Roll' on Customised Kimpton Bikes
Each Kimpton hotel is ideally located near local attractions and activities, and guests can now explore their chosen destination on a specially customised bicycle. The cherry-red, three-speed bikes are available to use free-of-charge and visitors can order locally-sourced goodies to enjoy on their adventure. Packed into a basket on the rear of the bike, the picnics will include chef-curated lunches such as assorted olives, caprese sandwiches and truffles.
Fitness-inspired perks and packages at Kimpton hotels include:
'Bike with the GM' at Kimpton's Hotel Monaco in Washington DC
Developed by General Manager, Ed Virtue, to celebrate the introduction of Kimpton's new bikes, Hotel Monaco's 'Bike with the GM' programme includes a touch-screen GPS loaded with Ed's top 25 cycling excursions, prizes for guests who beat his best time for each ride and a weekly bike-ride with Ed every Wednesday from 4:30-5:30pm, following routes including Washington's monuments, Potomac River or Rock Creek Park. Overnight accommodation starts from $169 (approx. £112) per person. To make a reservation, visit monaco-dc.com.
'Sweat Your Asana Off' at Kimpton's Hotel Palomar in Phoenix
With the hot yoga craze hotter than ever, guests can use the Arizona heat to get their sweat on at Hotel Palomar's weekly rooftop yoga session. Offering sweeping views of Downtown Phoenix, the complimentary class is led by a local instructor every Monday from 7pm-8pm, followed by happy hour food and drink specials at LUSTRE Rooftop Garden. Overnight accommodation starts from $119 (approx. £79) per person. Available until 2 September 2013. To make a reservation, visit hotelpalomar-phoenix.com.
'Pressed, Pampered & Purified' at Kimpton's Hotel Palomar in San Francisco
Reboot your health on holiday with Hotel Palomar's 'Pressed, Pampered & Purified' juice cleanse package, which includes luxury accommodation, a daily regimen of 'Pressed Juicery' juices, cleanse guide, decaffeinated herbal teas available in-room and use of the hotel's bicycles. Package rates start from $219 (approx. £144) for a one-day, one-night cleanse and $657 (approx. £431) for a three-day, two-night cleanse. Available until 31 December 2013. To make a reservation, visit hotelpalomar-sf.com and use rate code 'PRESSD'.
For more information on Kimpton Hotels & Restaurants, visit KimptonHotels.com.