A trip down Finland's magical Glass Trail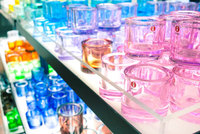 Long known as the hub for innovative art and quirky design, Finland's creative and cultural heritage encompasses a huge range of industries, with glassware considered one of the most distinctive art forms by the Finns. Passing through world famous factories, art and design centres and stylish studios, Finland's Glass Trail is an apt way to explore the full Finnish glassware experience, its 300 year history and most celebrated designers.
Whether it's innovative art, cultural heritage, creative studios, working factories or just a bit of retail therapy that you're after on a break away, Finland's Glass Trail puts a whole new shard of light on both everyday glass and designer art. Design aficionados can follow the whole trail as it winds north from Helsinki, while those that just want to find a Finnish memento should call in on one of the following places.
For the full Finnish Glass Trail, visit visitfinland.com/article/on-finlands-magical-glass-trail/
Helsinki
Helsinki's Design District is a good starting point to really get to know Finnish urban culture and creative state of mind, as well as spot the trend-setters in art and design. The neighbourhood is home to the Design Museum, highlighting the story of Finland's design culture from the late 19th century to today, while Anu Penttinen's Gallery Nounou helps non-Finns to understand why design glass holds such significance in the hearts of Finns. Like many Finnish designers, Anu Pettinen works for Iittala, Finland's leading glass design company, whose flagship store is also located within the district. Iittala's headquarters and outlet store are located in the district of Arabianranta, together with an exhibition and a host of other designer stores, and is certainly worth the tram ride out for a visit. (Take tram 6 or 8 to the second last stop).
designdistrict.fi / designmuseum.fi / arabianranta.fi
Iittala
The village of Iittala, the namesake of Finland's most well-known glass brand, is world-famous for the glass produced at its factory and has been at the forefront of Finnish design for decades. The glassworks offer free tours of Iittala's main plant, where visitors can see the glass-blowers at work, while the nearby Iittala Glass Museum covers the history of the glassworks and the glass-making process. iittala.com / designmuseum.fi/en/museums/iittala-glass-museum /
Iittala lies off the main Tampere- Hämeenlinna highway. There are trains from both Tampere (45 minutes) and Hämeenlinna (15 minutes). Iittala is an hour and a half by train from Helsinki.
Riihimaki
Housed in a former glass factory, the Finnish Glass Museum in Riihimaki offers an in-depth tour of Finland's 300 year old history of glass production and the various glass-blowing techniques used, as well as the products of the Finnish glass industry since the 1700s. In the town's glass district of Hyttikortteli, visitors can see glass-blowing first-hand in historic studios and workshops, and then purchase their own everyday or design glass. The Lasismi glassworks maintains the Finnish culture of ambitious glass art and honour the traditions of the craft, while also hosting workshops, exhibitions and experience evenings on glassblowing and glass design. riihimaki.fi
Riihimaki is 69km north of Helsinki, 45 minutes by train from the capital.
Fiskars
The quaint village of Fiskars houses craft shops, design studios and quirky workshops, making it an interesting hub of arts and craft. There's plenty of design glass to be found among the historic buildings, such as at Gallery Sirius, the Cooperative Onoma and the glass studio Blu Bianco. With over one hundred creative professionals living and working in Fiskars, there's also a wealth of Finnish handicrafts made from other materials, including wood, ceramics, metal and paper. fiskarsvillage.fi/en
The nearest train station is Karjaa, an hour by train from Helsinki. A shuttle service runs between Karjaa and Fiskars on weekends between 1st June and 30th September,
Finnair flies direct to Helsinki from London Heathrow (return fares start from £125 in August) and Manchester (return fares start from £153 in August). Fares include all taxes and fees. finnair.com
For train timetables and fares, visit vr.fi/en/
Check out the Your Tube channel for more inspiring Finnish ideas - youtube.com/user/VisitFinland