Victor Hugo's Hauteville House becomes a 'Maisons des Illustres'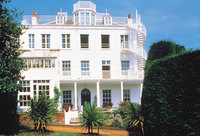 Hauteville House in Guernsey, which was home to Les Misérables author Victor Hugo, has officially been awarded the prestigious 'Maisons des Illustres'; a French accolade which recognises the building's cultural value and contribution to French heritage.
Although the house is located in Guernsey, it is owned by the City of Paris which is why it is possible for it to be awarded this special title. The honour has only been granted to 194 buildings, three of which are located outside of France and Hauteville House is one of them. The award aims to preserve historical houses whose owners have helped shape the political, cultural and social history of France. It also seeks to raise awareness of their contribution to French national history, such as Hugo's important literary role.
The grand Hauteville House sits in Guernsey's capital, St. Peter Port and was home to Hugo for 15 years during his political exile from France in the 19th century. Conservative looking from the outside, the interiors reflect Hugo's bizarre creativity. Each room has a completely different design and each defies logic in its decoration with tapestries on the ceiling, a door used as the dining room table, wall panelling from old wooden chests and columns made from old table legs. The house is full of secret doors, hidden cupboards and there are tricks with mirrors and light throughout. Visitors can explore all three floors of the house, even seeing the spot where Hugo is thought to have written Les Misérables and Toilers of the Sea
Hauteville House is open to visitors from April to September with an entry fee of £7. For more details visit victorhugo.gg/hauteville-house
For further general information on Guernsey, visit visitguernsey.com