Renault-Nissan sells its 100,000th zero-emission car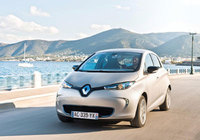 The Renault-Nissan Alliance has sold its 100,000th zero-emission car.

Electric cars from Renault and Nissan have driven approximately 841 million zero-emission kilometres − enough to circle the earth more than 20,000 times. Together, they represent 53 million litres of oil saved and 124 million kg of CO2 that have not been emitted.

"The age of the mainstream zero-emission vehicle is here," said Renault-Nissan Alliance Chairman and CEO Carlos Ghosn. "We expect demand to keep growing as the charging infrastructure develops – and we remain 100% committed to zero-emission technology for the long term."

Renault-Nissan has sold more zero-emission cars than all other major automakers combined.

The very first EV from the Alliance is a Nissan LEAF owned by engineer Olivier Chalouhi in California's Silicon Valley. He bought the LEAF when it debuted in December 2010.

The 100,000th customer was American graduate student Allison Howard, who became an owner of Nissan LEAF earlier this month and drives the car to Kennesaw State University in Atlanta, Georgia.

"It just drives perfectly. It's so cool. I love it!" said Howard.

"The fact that it's all electric and I don't have to spend money on gas as a college student, that's great," she added.

For more information about Renault-Nissan's electric vehicle customers and its 100,000 milestone, watch this video.

Nissan LEAF best-selling EV ever

More than 71,000 people worldwide have bought Nissan LEAF, the world's best-selling electric vehicle. LEAF makes up more than half of all global sales of pure electric cars.

Nissan LEAF won the 2011 World Car of the Year, European Car of the Year 2011and Car of the Year Japan 2011-2012 awards.

More than 80% of LEAF buyers globally exchange cars from other automakers, making the LEAF one of the industry's most innovative "conquest vehicles." The majority of customers say the LEAF, which consumes no petroleum whatsoever, has replaced their conventional car for daily use.

The top markets for Nissan LEAF are the United States with about 30,000 units, Japan with 28,000 units, and Europe with 12,000 units.

In the United States, the LEAF is among the top 10 vehicles sold in San Francisco, Seattle and Honolulu.

In Norway, the LEAF is one of the top 10 vehicles sold. The car is Nissan's best-selling model in Norway, where more than 4,600 people have bought LEAFs since 2011. EVs in Norway are exempt from value added tax (VAT) and road tolls, and they have access to bus lanes and free parking.

Renault - Europe's leader with full range of electric vehicles

Renault has sold about 30,000 electric vehicles since its first model, Kangoo Van Z.E., went on sale in late 2011. Kangoo Van Z.E. was voted International Van of the Year 2012.

Renault leads the electric vehicle market in Europe with a 61% share, including Twizy. Renault's top markets in Europe are France, Germany and Italy.

In addition to the Kangoo Van Z.E., Renault also offers Fluence Z.E. saloon; the two-seat commuter vehicle Twizy; and the ZOE supermini, launched earlier this year.

Twizy is Renault's best-selling model with about 11,000 units sold since it went on sale in early 2012.

Renault ZOE has a range of 130 miles and sells from £13,995 (UK) on-the-road, plus battery hire from £70 per month. Renault began selling the ZOE in March throughout Europe and has sold about 5,000 units.

Committed to a zero-emission future

The Alliance is the industry leader in EVs and remains fully committed to a zero-emission future, with vehicles that can be recharged using purely renewable energy.

The plug-in cars store energy in a lithium-ion battery that meets or exceeds all environmental and safety standards wherever they are sold. The vehicles can be "topped off" at any charge point, or they can be fully recharged overnight from the convenience of the driver's home, garage or parking deck.

In order to accelerate the uptake of electric vehicles around the world, the Renault-Nissan Alliance is working with government authorities, utility companies and others to rollout a network of charging stations that allow drivers to recharge their cars from zero to 80% capacity in less than 30 minutes.