Colorado's Garden of the Gods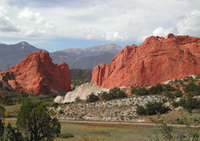 Colorado's Garden of the Gods public park is officially the 3rd best park in the world and the second park in the USA according to international travel resource TripAdvisor which has released its Travellers Choice Attractions list. The park, which is situated in Colorado Springs, welcomes millions of travellers each year and is one of Colorado's most stunning natural attractions.
The rankings are based on 1,963 traveller reviews and descriptions of Garden of the Gods. TripAdvisor recognised the 1,319.12 acre park for its stunning red sandstone rock formations, views of Pikes Peak, hiking trails, vegetation, wildlife and rock climbing. Also assessed were landmarks, museums, amusement and water parks and all attractions were ranked based on the quantity and quality of reviews on its site.
Stanley Park in Vancouver came first worldwide and New York City's Central Park won the national award.
An estimated 1.7-2 million people visit the Garden of the Gods each year which is a National Natural Landmark. It is characterised by 300 feet tall red sandstone formations. The park is open all year round and visitors can explore over 24 kilometres of trails winding through the prehistoric site.
Colorado is a four-season destination offering unparalleled adventure and recreational activities, an abundant arts scene, Western heritage, distinctive cuisine, and 25 renowned ski resort areas. The state's scenic landscape boasts natural hot springs, the headwaters of four major rivers, many peaceful lakes and reservoirs, eleven national parks and monuments, and 58 mountain peaks that top 14,000 feet. Colorado is hosting this year's Solheim Cup in August - SolheimCup.com.
For more information, visit colorado.com/english/home