Volvo insurance premiums set to fall on models fitted with City Safety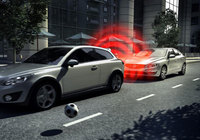 Thanks to Volvo's City Safety Autonomous Emergency Braking (AEB) system, fitted as standard on all new Volvo models, drivers could see their insurance premiums fall by more than £100 the next time they renew their car insurance policy.

Volvo car models have had their insurance groupings reduced by up to four levels, saving the consumer up to £161.81 per year in reduced insurance premiums according to figures supplied by Volvo Car Insurance.
The Volvo City Safety system, which has been fitted to more than one million new Volvos worldwide, was applauded for its ability to help drivers avoid low speed crashes by Thatcham, which administers the Association of British Insurers group rating system for private cars and commercials.

Alongside Volvo Car's Pedestrian Detection with full auto-brake and the newly launched Cyclist Detection system that joins Volvo's Lane Departure Warning (LDW) system and Blind Spot Info System (BLIS), Volvo continues to be at the forefront of putting all road users' safety first.

Comments Volvo Car UK managing director Nick Connor: "With City Safety AEB now fitted as standard across all new production Volvos except the XC90, it's fantastic to see the technology recognised by Thatcham, ultimately allowing Volvo drivers to enjoy big cost savings on their insurance. The continued introduction of all these lifesaving technologies links back to our Vision 2020 long term objective that by 2020 no one should be killed or injured in a new Volvo."

Comments Thatcham Group Rating Manager, Howard Barron: "Our Crash & Safety team have conducted rigorous AEB testing on all new Volvos fitted with their City Safety AEB technology, in line with our insurer ratified AEB testing protocol. As a result of the successful testing we have been able to recommend to the ABI's Group Rating panel an adjustment in these Volvo model's insurance grouping. For consumers this should mean reduced insurance premiums and safer motoring, not just for themselves but also other road users."

Thatcham has proven that City Safety reduces accident rates and relevant repair costs since its XC60 launch in 2008. It also prevents expensive personal injury claims for whiplash caused by low speed rear end shunts, and rules out the need to provide a hire vehicle while a driver's car is in for repair.

Tristar Worldwide, a global chauffeur drive company based in Middlesex, has already seen considerable benefits of upgrading much of its 500-strong fleet to the latest Volvo models equipped with City Safety in September 2011.
First year repair costs fell 56% to just under £270,000, a saving of almost £350,000.
Third party insurance costs also fell 71% saving Tristar Worldwide £260,000.
Hire costs were reduced by £65,000.

"Our drivers work predominantly in urban areas and have suffered from numerous minor cases of causing rear end shunts which generate repair, hire car and potentially expensive personal injury costs," explained Janusz Kozlowki, Tristar Worldwide's fleet manager.

The European Commission has suggested widespread adoption of AEB could reduce accidents by up to 27 per cent, potentially saving 8,000 lives a year and reducing insurance claims by up to £6.3 billion. In the future it could also be "practically impossible" for car models to obtain an NCAP five-star rating without this technology fitted.