Peugeot Pocket Racing: A performance boost for the gaming generation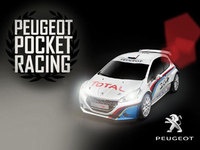 Peugeot's performance cars have been grabbing global headlines in recent weeks. The 208 T16 was a stunning success at Pikes Peak in Colorado, while the Goodwood Festival of Speed marked the debut of the RCZ R.

Now petrolheads young and old can get behind the wheel of the brand's sportier models with the launch of Peugeot Pocket Racing. Providing a serious injection of power and perks for mobile gamers, this is Peugeot's first driving app for the gaming community.

Free to download for the iPad and iPhone, Peugeot Pocket Racing features an exciting range of production and show cars to control on 11 exhilarating circuits. Models include the super-sporty 208 GTi, New RCZ and the Onyx Concept, as seen at Goodwood earlier this month. There's even the chance to drive the EX1, Peugeot's pioneering all-electric prototype. Players can also turn car designer and customise vehicles themselves.

This is high-octane racing at its best. Racing everywhere from the UK to the USA and Spain to Singapore, gamers steer cars around the tricky tracks using either on-screen buttons or tilt controls. Responsive handling is complemented by automatic acceleration and gear-changing, with fine-tuning of cornering sensitivity and downforce all part of the user experience. This allows players to perfect their own racing style to hit the 50 in-game achievements.

With three modes of play, Peugeot drivers can leave a trail of smoke as they slide into the corners. They progress through car classes by unlocking levels in 'Tour' mode, having mastered their technique in 'Practice' laps. Why not take on the World Tour and battle against skilled opponents?

'Time Trial' mode is all about setting your personal best on each track, with the chance to go head-to-head for points in a race. Leader boards list other players' overall scores and fastest lap times. The addictive 'Cone Challenge' really puts racers through their paces, with points won and lost according to the pinpoint accuracy of their driving.

And, if all that wasn't enough to rev your engine, players can share their Peugeot Pocket Racing leader board ranking, Time Trial and Cone Challenge scores on Twitter and Facebook. Challenge your friends to go online and knock you off the podium!

For those who want to move from the virtual world to the real one, the interactive Showroom has details of the critically acclaimed Peugeot 208 GTi and New RCZ. And for an experience that's more 3D than 2D, the Peugeot 208 GTi is available from only £18,895 on the road. The stunning RCZ two-seater Sports Coupé costs from £21,850, while the flagship RCZ R, with a 1.6-litre 270bhp turbocharged engine, will go on sale early next year.

Peugeot Pocket Racing, is available for free on the Apple App Store. Download it now at appstore.com/peugeotpocketracing or search Peugeot Pocket Racing.