Hotel happenings hitting Copenhagen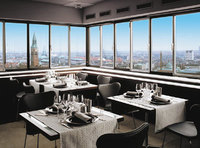 The hotel scene in Copenhagen is growing with new and noteworthy hotel properties in some of the city's most vibrant areas, giving visitors coming for work or play several reasons to extend their stay. From the eco-friendly lifestyle that sits at the core of Denmark, to the world-class business accommodations and renowned Danish design, hotels across Copenhagen are remarkable in their own way.
Renovations and New Openings
From the world's most luxurious hotels to the world's smallest, Copenhagen is bursting with fresh-faced properties. In May of 2013, the historic 250-year-old d´Angleterre hotel re-opened after an extensive two-year renovation to become one of the finest luxury hotels in the world. Known as "The White Lady," with its famous sparkling white façade, the d'Angleterre has come back to life with modern details such as handpicked deluxe quality textiles, inch-deep soft carpets, and silk wallpaper.
Another property giving guests a sense of renewal is the Radisson Blu Scandinavia Hotel. The exclusive hotel received a complete upgrade to 470 rooms, conference centers and corridors, with modern decor inspired by autumn and spring signature colors. New on the block of hotel experiences, is access to the penthouse suite at the Hotel Kong Arthur, known as ApArt. This hidden gem can only be entered with a special key inserted into a discrete keyhole in the wall and features several pieces of Danish art classics and continuously hosts exhibitions of Danish contemporary art, giving special guests a private abode to soak up on their own, or to play host for a variety of luxurious events.
On the other end of the spectrum, Copenhagen welcomed the world's smallest hotel, Hotel Central & Cafe, in June 2013. Tucked onto a curving street in the emerging Vesterbro neighborhood, the quaint hotel has just one 130-square-foot room, and fully immerses guests into this vibrant neighborhood, one at a time.
Designing Green Accommodations
While modern design is a cornerstone for many of the hotels in Copenhagen, the green way of living that is commonplace for all Danes is also integral to the day-to-day operations of the city's hotels. The Andersen Hotel is a boutique property which strikes the perfect balance between design savvy and eco-consciousness with 73 unique rooms decorated by the Designers Guild and recently earned a Green-Key eco label in 2013.
The Green-Key certification is a globally recognized label requiring leisure organizations to meet criteria in the areas of policy, action plans, education and communication, as well as the regular environmental demands of a hotel. First Hotels are also Green-Key certified and recently installed new shower heads, reducing water consumption without compromising comfort for guests.
Paving the way for greener business standards, the Scandic Hotel properties developed the industry's leading sustainability program, ensuring that sound environmental, economic and social considerations are incorporated into everyday decisions within the business, awarding the chain a Gold Medal by the Global Business Travel Association. Also joining the fight in global warming, Brøchner Hotel Group, which includes the Hotel Kong Arthur, Ibsens Hotel, Hotel Danmark and Hotel Fox, became the world's first CO2-neutral hotel chain. Guests at any of the Brøchner Hotels can purchase a hotel stay with a CO2 quota, a permit to send one ton of carbon dioxide (CO2) into the atmosphere, allowing them the opportunity to fight climate change during their stay.
Stay for the Food
As Scandinavia's gourmet capital, Copenhagen's hotels are becoming more than destinations to lay your head down with their restaurants now offering guests an array of locally sourced ingredients, New Nordic cuisine, Michelin-star dining, and more. The Radisson Blu Royal Copenhagen recently welcomed a prestigious new culinary team at the internationally renowned restaurant Alberto K. including Executive Chef Jeppe Foldager who was the winner of this year's Bocuse d'Or Silver medal.
The luxurious d'Angleterre hotel also boasts award-winning culinary talent with the addition of new restaurant Marchal from Michelin-starred Chef Ronny Emborg and recently added Balthazar, Copenhagen's first Champagne bar. Keeping true to Denmark's New Nordic culinary heritage, the Andersen Hotel's breakfast restaurant will turn into a pop-up dinner destination, Nymindegab, named for the small village on the West Coast of Denmark, and will open from October until mid-December. In an effort to make the most of seasonal ingredients, the Scandic Hotel Group has been working with celebrity chef Jamie Oliver to launch a summer and kids menu in June, which is served at all 156 hotels in the Nordic countries.

From Business to Leisure - Under one Roof
Copenhagen combines the best of work and play in an array of hotels designed for the most discerning business traveler. The newly renovated Marriott Copenhagen is renowned for its 16 superlative conference venues, but allows guests to retreat into stylish guest rooms to unwind after a long day of meetings, while the Bella Sky Comwell hotel offers 28 conference rooms and is one of the most aesthetically appealing hotels in Scandinavia. For true convenience, the Hilton Copenhagen Airport enjoys a unique location next to the city's airport and is just 12 minutes from the city center. The Hilton Copenhagen Airport was honored as the "Best Business Hotel in Denmark 2013" by Business Destinations magazine for the fifth consecutive year.
With four new flight routes, getting to Denmark from the UK is now easier than ever before.
SAS offers new direct route between Newcastle and Copenhagen
Scandinavian Airlines has expanded its regional network and now offers a new direct route from Newcastle International Airport to Copenhagen from Sunday to Thursday.
In addition SAS also offers flights from Aberdeen, Dublin, London, Manchester and Birmingham.
easyJet opens new direct service from Edinburgh to Copenhagen
easyJet has opened a new route from Edinburgh to Copenhagen with a new service of four weekly departures on Mondays, Thursdays and Fridays at 1:20pm, and on Sundays at 6:30pm.
easyJet also operates daily flights from London Gatwick and Stansted, as well as three weekly departures from Bristol.
Fly Liverpool - Copenhagen with Europe's third largest low cost airline
The low cost airline Norwegian has commenced a three times weekly service from Liverpool to Copenhagen, starting on 5th April 2013, with a convenient lunchtime departure from Liverpool at 1:55pm with one way fares from only £33.
Norwegian also offers daily flights from Gatwick to Copenhagen, as well as three weekly departures to Aalborg in North Jutland.
Fly Birmingham-Billund with the UK's most punctual scheduled airline BMI Regional
BMI Regional has opened a new route between Birmingham and Billund. Billund Airport is well served by both bus and taxi services and provides easy access to the popular Jutland Peninsula which offers stunning walks, biking and beautiful beaches as well as charming regional towns. The new route will operate six times a week with flight prices starting from £59.
BMI regional also offers direct flights from Edinburgh and Glasgow to Copenhagen, as well as from Aberdeen to Esbjerg on Denmark's West coast.
To plan your trip to Copenhagen, visit visitdenmark.co.uk and visitcopenhagen.com.