HPI urges used car buyers to double check log books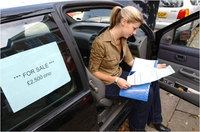 The UK's leading vehicle history check expert, HPI, is warning used car buyers to be on their guard against stolen log books (V5) after receiving a spate of consumer calls expressing concern over recent purchases. Criminals are using these documents to accompany stolen vehicles that have had their identity changed to match that of a legitimate vehicle. The practice, otherwise known as cloning, is costing car buyers tens of thousands of pounds, says HPI.

Although the theft of 130,000 blank registration forms from the DVLA happened back in 2006, they remain very much in circulation today and are catching out unsuspecting car buyers. HPI is in the unique position of including a stolen V5 document check as standard within its HPI Check, confirming the V5 registration document is not one of the batch the DVLA confirmed as stolen. HPI is also the only provenance check provider to provide clone cover up to the value of £40,000 with their vehicle check.

"Despite ongoing warnings of the threat of car cloning, buyers remain at risk," explains Daniel Burgess, Managing Director for HPI. "Criminals continue to make millions by cloning cars using the blank registration forms stolen from the DVLA and selling these vehicles on to members of the public, who then lose both their new motor and their money when their vehicles are confiscated by the police."

The stolen certificates have a different background colour on the Notification of Permanent Export (V5C/4) tear off slip on the second page, which looks mauve on the front and pink on the reverse. On legitimate documents they should be mauve on both sides. But says Daniel Burgess, there are other measures that car buyers can follow to help them avoid buying a clone.

One - Location: If you're buying privately, make sure you view it at the registered keeper's address (as shown on the V5/logbook).

Two – Provenance: Always check the history of the car. One vital check the buyer can do is to find all the VIN/chassis numbers on the vehicle to make sure they match each other, and then use the HPI Check to ensure they tally with the registration number of the vehicle.

Three – Documents: Check the vehicle's V5/logbook. Stolen V5 documents are currently being used to accompany cloned vehicles but the HPI Check includes a unique stolen V5 document check as standard. This will confirm whether or not the document is one that the DVLA have recorded as stolen. The vehicle should also be accompanied by a service history and MOT certificates if the vehicle is over 3 years old – make sure you see these too.

Four – Price: Know the car's market value. No genuine seller will want to lose money on their sale. If you are paying more than 30% below the retail market value, then be on your guard.

Five – Payment: Don't pay with a substantial amount of cash, particularly if the car is costing you more than £3,000. Some cloners will take a bankers draft as part payment, because the cash part is sufficient profit without ever cashing the bankers draft. Most crooks selling cloned cars would rather walk away from a sale than take a payment that could be traced back to them. Despite strong advice to buyers to pay via the banking system, HPI still hear of many buyers who go on to pay in cash and subsequently find out that the car is a clone, and that they've lost both their money and the vehicle. HPI plays an active role in working with ACPO's Vehicle Crime Intelligence Service to help solve vehicle crime, and is the only vehicle provenance check provider to include clone cover within its guarantee(3). If the buyer follows HPI's buying advice, this can provide up to £40,000 financial reimbursement in the event of the car not being everything it seems – including a clone.

Concludes Daniel Burgess: "It is essential that HPI, the police and the general public work together to squeeze out fraudsters. As time has taught us, we can't stop stolen V5s from circulating but we can stop the criminals from profiteering from them by simply using the tools that are at hand to check, check and double check if documents are legitimate."

For further information, visit hpicheck.com.