Toyota connects with industry partners to bring power to the people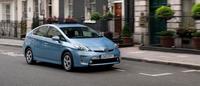 At the same time as it continues to bring advanced, low emissions plug-in hybrid vehicles to the marketplace, Toyota knows their success will rely on customers having easy access to safe and convenient recharging points. To help make this happen, it has joined forces with fellow manufacturers in Japan to promote the installation of chargers and take the initiative to help build a national network that provides recharging facilities just where people need them.

Here in the UK, meanwhile, Toyota's preferred energy partner British Gas is offering customers free installation of a home charging point, plus free access to the POLAR national network of public charging points (for a limited period). The free wallbox offer, available until 31 March 2015, has been made possible thanks to the Government's subsidised funding scheme to promote the take-up of electric vehicles. With the remainder of the cost offset by British Gas, the free offer provides a charging package worth from £1,333.

These schemes will not only help make the new generation of electric vehicles, plug-in hybrids and plug-in electric hybrids – such as Toyota's Prius Plug-in – a practical proposition for more motorists, they will also help maximise their zero-emissions EV performance.

In Japan, Toyota Motor Corporation, Honda Motor Co Ltd, Nissan Motor Co Ltd and Mitsubishi Motors Corporation have signed an agreement to work together on the swift development and installation of an efficient national charging infrastructure. The manufacturers will contribute to the cost of the project, with further support from national government funding. They will also work with government agencies and local authorities to harness the opportunities offered by next-generation EVs, PHVs and PHEVs so that the country can meet its target of these alternative energy vehicles accounting for up to 20 per cent of new car sales in Japan by 2020.

In the UK, British Gas's free home charging point offer includes a 16-amp data-enabled charging point, complete with a connector suitable for the customer's vehicle. The package includes a home survey prior to same-day installation to ensure suitability, undertaken by trained British Gas technicians.

Customers can be assured of safe performance, with the wallbox connected to a dedicated circuit, separate from the home electrical circuit. The connection is also fully earthed and meets all industry guidelines. There is also the option to pay for upgrades, including a 32 rather than 16amp point, and installation only, where the unit is replacing an existing charging point. To qualify for the offer, customers need to have off-street parking and appropriate permissions from the homeowner or landlord. The charge point is data enabled, so requires a suitable 02 data network connection – the customer does not need to have an account with 02, simply their property needs to be able to receive the 02 signal. Similarly, they do not need to be British Gas energy customers.

Anyone taking up the offer will also be given free access to the POLAR national network of public charging and rapid charging points through to the end of March next year.

The free package will further strengthen the appeal of Toyota's Prius Plug-in Hybrid, a car that combines the advantages of advanced lithium-ion battery technology and a highly efficient 1.8-litre petrol engine to return exceptional emissions performance and fuel economy.

With official CO2 output of 49g/km when running in PHEV form, it remains exempt from the London congestion charge and qualifies for zero annual road tax (VED). At the same time, it provides a "best of both worlds" solution in automatically engaging the hybrid system's petrol engine once the battery's power has been exhausted. That means customers need have no fear of the power running out before they reach their destination, should they be travelling further than a typical urban commute.

Recharging the battery is quick, safe and simple, too, with a full recharge taking only around an hour and a half from a standard 230V domestic power supply. Prius Plug-in remains eligible for the Government's UK Ultra-Low Carbon Vehicle Grant, which contributes £5,000 towards the Toyota's on-the-road price.