Climb all over the history of Guernsey with new self-guided trails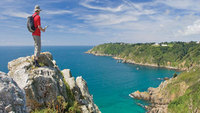 Guernsey is steeped in historical gems, and with Visit Guernsey's new self-guided trails, the history of this fascinating island can be enjoyed at any pace, any time.
With Napoleonic towers built to defend against the threat of French invasion, relics from World War Two and Neolithic burial chambers Guernsey is its own outdoor museum. The new self-guided trails provide the perfect way to uncover some of Guernsey's historical secret gems whilst enjoying the stunning scenery and breathing in the fresh, invigorating coastal air.
The guides are downloadable from visitguernsey.com and can also be found in the tourist office in the capital of St Peter Port and Rousse Kiosk in Le Grand Harve Bay, The Beachhouse at Pembroke and The Bella Luce Hotel. The guides will give practical information on the terrain and difficulty of the trails, whilst providing an easy to decipher code with lots of symbols to highlight points of interest and historic sites to look out for. For those who like to know what the backup plan is the guides give details of nearby bus routes and services so that weary walkers can easily reach their base or even choose not to continue the whole trail.
Example trails
Wild West
Starting at the most southerly beach, Portelet, and exploring the rugged beauty of the south west coast the trail heads north to Fort Grey, the site of a Martello tower then onto Lihou island – dramatically cut off from the mainland at high tide. The trail finishes at the site of one of the island's most ancient historic gems; the Neolithic burial chamber Le Trepied Tomb – later used as a gathering place for witches!
The Historic North
This flat and easy trail discovers the historic heartland of Guernsey. Starting at the 700 year old impressive Vale Castle, beside the picturesque Bordeaux Harbour, the trail meanders around the northern coastline and even offers a pit stop in the form of the popular Woodies Café before finishing at Pembroke Bay, one of Guernsey's most beautiful beaches.
For more information on the self guided walks visit visitguernsey.com
Getting there
Guernsey is accessible from London Gatwick with Flybe (flybe.com) and from Gatwick and Stansted with Aurigny (aurigny.com) with prices starting at £77 and £74 respectively. Regular regional flights run from Manchester, East Midlands, Bristol, Southampton, Norwich and Birmingham.