Paddle board like a celebrity on the Chesapeake Bay, Maryland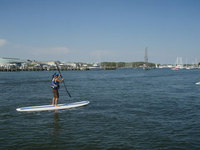 Whilst it originated in Hawaii, one of the best locations to paddle board is on the Chesapeake Bay, Maryland, as it offers UK travellers really varied paddle board experiences. Chesapeake Bay is over 200 miles long and is home to more than 300 species of fish as well as a large variety of bird species including Osprey, Great Blue Heron, Bald Eagle and Peregrine Falcon, meaning the wildlife and scenery is spectacular.
Located on Chesapeake Bay at the mouth of the Severn River is Stand Up Paddle Annapolis, a local company in Annapolis, the capital of Maryland, dedicated to growing the sport throughout the state. Through Stand Up Annapolis, beginners can enjoy lessons or rent paddle boards in groups and can paddle in rivers or creeks off the bay where the water is tranquil and calm.
Those adventurous visitors looking for more of a challenge can venture out further into the bay and paddle in some rougher water. Visitors can also fish, cruise, and even catch some tanker waves, where paddle board enthusiasts can ride the waves from tanker ships. UK visitors are also welcome to join in one of the many local paddleboard races and can hire a paddleboard to complete.
Rentals are available from $40 for a half day (1-4 hours) and lessons are available from $70 per person for 1.5 hours or $60 each for two people.
To find out more about Stand Up Paddle Annapolis, visit supannapolis.com
To find out more about Maryland and the Capital Region USA, visit CapitalRegionUSA.co.uk