Vauxhall ADAM's new engine gives a triple punch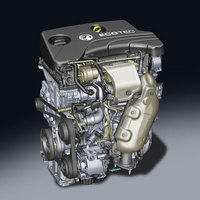 Vauxhall unveils an all-new high-tech 1.0-litre three–cylinder petrol engine at next month's Frankfurt International Motor Show, ahead of its debut in the ADAM city car next year.

The 1.0-litre turbo petrol, known as SGE (small gasoline engine), represents a new benchmark for refinement in three-cylinder engines, with noise, vibration and harshness (NVH) characteristics superior to many four cylinder units.

Developing 115PS, the pocket powerhouse delivers generous low-end torque of 166Nm all the way from 1,800 to 4,700rpm, belying its small size.

The 1.0-litre spark ignition direct injection (SIDI) turbo generates more torque throughout its operating range than equally powerful, higher displacement engines, while fuel efficiency is improved by 20 per cent compared with the current 1.6-litre naturally aspirated unit that powers the Astra.

Set to appear first in the stylish ADAM next year with an all-new six-speed gearbox, the 12-valve, 1.0-litre turbo is the first in a new, modular family of three and four-cylinder Vauxhall petrol engines up to 1.6-litres.

State-of-the-art technologies such as direct injection, continuously variable valve timing, and a lightweight aluminium cylinder-block, are key to the engine's efficiency. Vauxhall expects the new engine family to deliver impressive fuel economy and CO2 emissions significantly lower than 100g/km.

"In developing this small engine, we not only set out minimise fuel consumption and CO2 emissions. We also wanted to demonstrate that three cylinders can be just as refined as four or more," said Dr. Matthias Alt, Chief Engineer, Small Gasoline Engines. "We tackled at source the balance, noise and vibration issues typical of conventional three-cylinder engines, and we're confident customers will be pleasantly surprised by the results. This is a very lively and refined three-cylinder engine which doesn't compromise driving fun."

Engineered for class-leading acoustics

Vauxhall engineers started with a clean sheet of paper, which enabled a series of measures to eliminate the typical, 'off-beat' running characteristics which have traditionally accompanied three-cylinder engines.

The die-cast aluminium cylinder block is designed to reduce radiated and structure-borne engine noise, as well as reduce weight. The high-pressure fuel rail and injectors are also isolated from the cylinder head to minimise the transmission of pulsing, while the fuel pump and fuel line are acoustically treated.

Another major contributor to refinement is the installation of a balancer shaft in the oil sump. Driven by a chain with inverted teeth for quiet running, the counter-rotating shaft spins at crankshaft speed and is carefully mass-optimized to offset the inherent vibrations from a three cylinder operation.

Other noise attenuation measures include: acoustically-optimized covers for the top and front of the engine, the intake manifold and camshaft housings; crankshaft isolation with iron main bearing inserts; inverted teeth for camshaft drive chains; a low-hiss turbo compressor; and a lower oil pan in steel.

As a result of these engineering features, the new 1.0 SIDI Turbo is not only more refined than other three-cylinder engines, but also quieter than many four-cylinder units. For example, in bench testing at full throttle, it emits lower noise levels across all engine speeds than similarly powerful gasoline turbos up to 1.6-litres displacement. Its inherent refinement is so good, that the need for additional in-car sound insulation, or complex engine mountings and sub-frames, is significantly reduced.

Strong power and torque

The 1.0 SIDI Turbo also packs a punch, generating more torque than Vauxhall's current 1.6-litre, naturally-aspirated engine, as well as the same 115PS maximum power output.

Jewel-like precision engineering is used in the integration of the exhaust manifold inside the aluminium cylinder head, which is bolted directly to the low-inertia, water-cooled turbocharger. This compact installation contributes to the delivery of a fast boost charge for strong, low-end power. Maximum torque of 166Nm from just 1,800 rpm is almost 30 per cent higher than the 1.6-litre engine generates at the same rpm.

The six-hole fuel injectors are centrally located above each piston to provide efficient combustion, and dual cam-phasing enables variable valve timing for optimum engine breathing. A twin displacement oil pump and a switchable water pump, which is disengaged when the engine coolant is cold in order to accelerate warm-up, also contribute to low fuel consumption.

All-new, weight-saving six-speed gearbox

The 1.0 SIDI Turbo is mated to an all-new, six-speed manual gearbox specially designed for medium torque applications. With a dry weight of only 37kg, it is about 30 per cent lighter than its current counterpart. It is also extremely compact, measuring just 375mm along its axis.

Featuring superior shift quality, with a short lever travel and low shifting effort, the new transmission incorporates many of the refinements recently introduced on Vauxhall's next-generation gearboxes. These include gears with wide, asymmetrically-cut dog teeth, and triple-cone synchronizers for first/second gear, with double cones for third/fourth. Reverse gear is also synchronized.

The new gearbox will be used in a broad range of small and sub-compact Vauxhall vehicles with engines rated at up to 220Nm torque. For optimum powertrain efficiency in each application, the matrix of gearing choices comprises 12 sets of gear ratios and seven final drives.

Next step in Vauxhall's powertrain renewal program

The launch of the 1.0-litre SIDI Turbo and its new six-speed gearbox is the latest step in the renewal of Vauxhall's powertrain portfolio, which will see three new engine families and 13 new engines introduced between 2012 and 2016, plus a host of new transmissions.

The program began with the launch of the first engines in new mid-size petrol and diesel families. These 1.6-litre turbo units are now joined by the 1.0-litre turbo, as the first example of new, small displacement engine family. All will be built at GM's new Szentgotthard plant in Hungary, where petrol and diesel engines are produced on a shared assembly line.

New generation Vauxhall power plants are focused on meeting a growing customer demand for 'downsized' engines which are able to deliver reduced fuel consumption and CO2 emissions, in combination with the power and refinement typical of larger displacement engines.