MAC Cosmetics gets into the Festival Spirit at the V Festival 2013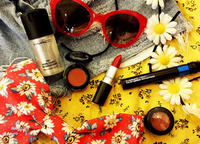 MAC Cosmetics and the MAC Pro Team will be descending on the legendary Virgin Media Louder Lounge VIP area at Virgin Media ' s V Festival, Hyland ' s Park, in Chelmsford on 17th and 18t h August, to keep a host of top celebrities, performers and guests looking refreshed from dusk until dawn.
The MAC Pro Team will be on hand to provide the ultimate festival makeup for VIP guests in the coveted Virgin Media Louder Lounge area, throughout the weekend. MAC Artists will be geared up to provide makeup and grooming services to key talent performing over the weekend. Headline acts at the festival include Beyonce, The Kings of Leon, Jessie Ware, Rita Ora, Calvin Harris, Ellie Goulding and Jessie J to name a few.
MAC Senior Artist s share their 'Festival Chic' tips and tricks to keep you looking great come rain or shine:
'Keep foundation from breaking down, prematurely, while also helping to protect against sun damage by using MAC Prep + Prime Face Protect SPF 50. To help keep skin hydrated keep a travel bottle of MAC Fix + and choose MAC Plushglass to enhance and condition your pout.'
Rachel O'Donnell, MAC Senior Artist
'Keep a bright matte lipstick at hand to dramatically change your makeup from day to night. Something that will last throughout the festival fun is always a winner. Try MAC Ruby Woo lipstick in classic red for the perfect velvet pout that is unmissable and 100% kissable.'
Cher Webb, MAC Senior Artist
'Opt for minimal amount of products on the skin; try to get all the coverage from a very long lasting corrector, like MAC Pro Longwear Concealer, only where necessary. In terms of lips and eyes, those are your opportunity to play with bold colours and glitters. Make it fun and do not worry about perfection.'
Pablo Rodriguez, MAC Senior Artist
'MAC False Lashes Waterproof Mascara - it might be pouring with rain, it might be blazing sunshine (it'll probably be both!) This mascara is sweat proof and waterproof.'
Rebecca Butterworth, MAC Senior Artist
'Remember to apply a sunscreen each day to protect your skin, my favourite is MAC Prep + Prime SPF 50 as it's lightweight, easy to blend and also cleverly absorbs oil too.'
Debbie Finnegan, MAC Senior Artist
MAC Senior Artists have taken inspiration from this year's decadent Virgin Media Louder Lounge theme of 'Weirder World of Wonderment' creating five gorgeous looks to inspire guests.
MAC Cosmetics
MAC Cosmetics is a leading brand of professional cosmetics and continually and actively liaises with the worlds of music, film, television and theatre. A team of Senior Artists is always on-call to help create a specific look for a musician on tour or an actor making a major public appearance. Members of Artist Relations work closely with young, emerging talent, encouraging them to use MAC as a resource for makeup ideas, tips and suggestions.
Virgin Media's V Festival

Virgin Media ' s V Festival takes place 17th - 18th August at Hylands Park, Chelmsford, Essex and Weston Park, Staffordshire. For more information check out - vfestival.com. Virgin Media's Festival is now in its 18th year and was the first UK festival to operate over two days and swap line-ups overnight. Artists who have performed include The Killers, Kylie, Foo Fighters, Blur, Oasis, Kings of Leon and Radiohead. For more information on Virgin Media go to virginmedia.com.