Powerful new Vauxhall engine to debut in Cascada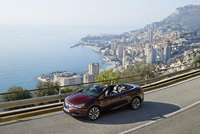 With 200PS, 300Nm torque and a top speed of 146mph, a high-performance version of the new 1.6 SIDI turbo engine is to make its world premiere in a Vauxhall Cascada at next month's Frankfurt Motor Show.

The engine is one of the newly-designed Vauxhall four-cylinder SIDI (Spark Ignition Direct Injection) units. It joins the existing 170PS 1.6 SIDI turbo fitted to the Cascada from its launch earlier this year.

"The completely new, even more powerful 1.6 SIDI turbo with 200PS debuting at Frankfurt makes our mid-size Cascada an extremely attractive offer to convertible buyers," said Martin Vögler, Global Chief Engineer MGE Engines. "The new top-of-the-line petrol engine expands the Cascada powertrain portfolio with a high-output and torque champion, now putting two very powerful engines at the top of our petrol and diesel ranges – the SIDI turbo with 200PS and 300Nm torque as well as the BiTurbo CDTI with 195PS and 400Nm."

More torque, more power

The new 200PS 1.6-litre SIDI turbo not only delivers 11 per cent more power, but also 300Nm maximum torque with overboost – 70Nm more than the comparable 1.6-litre turbo predecessor, an increase of 30 per cent. At the same time, the new engine with a power output per litre of 125PS is top-in-class in its competitive segment. With this the Cascada reaches a top speed of 146mph.

At the heart of the SIDI turbo is a new engine block that can withstand a maximum combustion pressure of up to 130 bar in the cylinder. The block is made of grey cast iron with an aluminium baseplate. In contrast to the 170PS version, a different type of piston was developed for the 200PS model and the compression ratio was reduced from 10.5 to 9.5:1. Vauxhall engineers also achieved a high power output with exceptional refinement by optimising the car's induction and exhaust systems. As a result, drivers and passengers will appreciate quiet and smooth idling, with an appealing sound quality even at high road speeds, engine speeds and loads. The exclusive HiPerStrut (High Performance Strut) front suspension further enhances these refined driving characteristics.

The new 1.6 SIDI turbo with 200PS completes the Cascada engine portfolio, with three petrol powertrains. It joins the 1.4 turbo 140PS as well as the 170PS 1.6-litre petrol direct injection unit. On the diesel side, the 2.0-litre turbo diesel with 165PS and the 195PS 2.0 BiTurbo CDTI are available.

The 200PS petrol direct injection unit is part of Vauxhall's model and powertrain offensive. Within five years, the manufacturer will introduce 23 new models to the market.

Through 2016 Vauxhall will also introduce three completely new engine families and 13 new powertrains, renewing 80 per cent of its entire powertrain portfolio. The new 1.6 SIDI turbo downsized engines are distinguished by high power density as well as superb refinement combined with low fuel consumption and CO2 emissions. At the same time, numerous ultra-modern manual and automatic transmissions are being introduced.

The Cascada 1.6 SIDI turbo with 200PS and six-speed manual transmission can be ordered from October.