Mercedes-Benz Service App launches online booking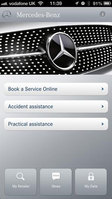 Mercedes-Benz has further enhanced its market-leading Service App with a unique feature to allow customers to find a preferred retailer, arrange a vehicle service, see clear and transparent pricing, and complete the booking directly via the App, all in real time.

The Service App enables car drivers to book an A or B service, MOT, diagnosis and fixed-price repairs to suit their individual requirements, with four service options for all budgets – Lite, Lounge, Drive and Collect.
Lite is a great value 'drop and go' option that gives customers the option to drop their car between 08:00 and 10:00 and collect from 16:30
Lounge offers customers the ability to book in and relax while they wait in the dedicated lounge, with TV, newspapers, refreshments, a business area with complimentary Wi-Fi, and a kids' zone. Lounge users are able to select a fixed appointment time from 08:00 and enjoy the benefits of a test drive facility while they wait
Drive enables customers to bring their vehicle in and drive away in a fully-insured loan car, keeping them on the move while their vehicle is serviced
Collect provides a collection of the service vehicle from a home or workplace, and a deliver back once completed

In four simple steps (entering vehicle registration, mileage, selecting the requirements and official workshop), customers are able to generate an instant quote via the App, and now, can book directly too when they want it, for a price that is fixed.

Allowing for maximum customer convenience, the Mercedes-Benz Service App, is available for both iOS and Android smart phones.