Aerodynamic new Insignia makes life a drag for rivals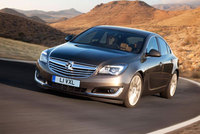 Vauxhall's new Insignia is not only the lowest CO2 emitting car in its sector but now also the most streamlined vehicle in the world in its class.

Thanks to clever changes to the body design of the new Insignia, Vauxhall's engineers have reduced the vehicle's drag coefficient to under 0.25 for the Insignia hatchback and 0.28 for the Sports Tourer. New extended underbody covers, wider front spoiler lips, tail lamp housings designed to enhance airflow separation and an integrated rear deck lid spoiler contribute to the new Insignia's slippery shape.

Insignia 2.0 CDTi ecoFLEX (120/140PS) models with Start/Stop also feature an additional, ultra-modern aerodynamic element: an active front air shutter. Air flowing through the front grille to cool the engine usually accounts for up to eight per cent of total vehicle air drag. To reduce this effect, a shutter in the lower front grille automatically closes to prevent air entering and causing turbulence. For cold starts, an additional advantage is a faster engine warm-up, which also helps reduce fuel consumption and CO2 emissions. Whenever the engine needs air for cooling, the shutter opens automatically.

These changes help the new Insignia ecoFLEX (120/140PS) achieve class-leading CO2 emissions of 99g/km and 76.3mpg on the combined cycle.

This gives the ecoFLEX a range of up to 1175 miles, which means that an average UK driver covering 8,200 miles*, would only have to refill with diesel seven times per year. Or put another way, an ecoFLEX driver could travel from London to Budapest on one tank of fuel!

"Taking all improvements into account, Vauxhall has succeeded in giving the new Insignia benchmark levels of aerodynamic performance along with rock bottom CO2 emissions of just 99g/km on the new 2.0 CDTi engine," said Peter Hope, Vauxhall's Marketing Director. "With exceptionally low Cd values, we are delighted that new Insignia hatchback and Sports Tourer are the most streamlined series production cars of their kind in the world."

Available as a five-door Hatch, four-door Saloon and Sports Tourer, the new range now starts at just £16,279, nearly £2,000 less than entry into the outgoing line-up. And as with all new Vauxhalls, the New Insignia comes with a Lifetime Warranty that gives first owners peace of mind as long as they own the car.

The biggest change existing Insignia customers will see when they sit in the new car is a completely re-designed centre console and instrument cluster. The centre console has been simplified and now has fewer buttons for more intuitive operation of common functions, such as air conditioning and infotainment, while the instrument cluster has new dials and a fresh, high-tech look.

Optional across the range is an 8-inch, high-resolution colour infotainment display (up from 5-inches in the outgoing range) and a new, upgraded instrument cluster. The cluster incorporates two outer dials showing fuel and revs, while in the centre sits a speedometer that can be displayed in analogue or digital form, or changed to show functions such as smartphone or audio use, or navigation.

The 8-inch infotainment display has touch-screen functionality, allowing drivers to access all functions and sub-menus such as radio stations, song titles, smartphone connection or 3D navigation in an intuitive and safe way. Its illuminated, touch-sensitive surface reacts immediately to finger movements, with even individual letters and numbers being accessible via this method. Up to 60 favourite menus can be stored from all functions and Apps can also be downloaded via the car's Bluetooth-connected internet.

Order banks for the New Insignia are now open, with first cars reaching customers in October.

*Source: Department of Transport's UK Travel Survey 2012 and based on a combined 76.3mpg for an ecoFLEX model fitted with 2.0 CDTi 99g/km engine.