Bike sharing programs give travellers a new way to explore US cities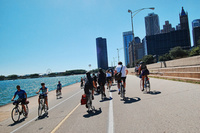 As more bike sharing programs are introduced in major cities across the country, some travellers may consider using alternative modes of transportation for sightseeing. Hotels.com has identified the best cities to explore on two wheels for the adventure-minded traveler.
Cities such as Minneapolis, Denver and Washington, D.C. pioneered the bike sharing movement over the last few years, paving the way for dozens of other cities to follow suit. In addition to recent program launches in New York and Chicago, a number of other major cities including Los Angeles, San Francisco and Philadelphia are planning to introduce community bike projects soon.
"Not only is biking a great alternative way to sightsee, but many cities with bike share programs also offer some of the most scenic urban bike paths and nearby trails," said Taylor L. Cole, APR, travel expert for Hotels.com. "Most bike share programs offer daily rates and conveniently-located stations that are in close proximity to great hotel properties."
New York City
One of the newest bike sharing programs is also the country's largest. With over 6,000 bikes at 330 stations across Manhattan and Brooklyn, visitors can strategically plan their day of sightseeing with unlimited 30-minute trips for about $10. Stay at the Millennium Hilton (4.4 Hotels.com Guest Rating; rooms starting at $199) and take a bike across the Brooklyn Bridge or ride along the Manhattan Waterfront Greenway.
Chicago
Launched in 2013, Chicago will soon boast the nation's second largest bike sharing program with 4,000 bikes at 400 stations. The 18-mile Lakefront Trail along the Lake Michigan coastline is one of the country's top city bike paths. Stay on the waterfront at the W Chicago Lakeshore (4.0 guest rating; rooms from $199) and explore points north and south of the area.
Washington, D.C.
The nation's capital was the first city to automate bike sharing back in 2010 and currently has a fleet of 1,800 bikes at 200 stations around Washington, D.C. and Arlington, Va. Visitors can avoid the city's traffic and explore Rock Creek Park or visit the monuments of the National Mall on bike. Stay at the Graham Georgetown (4.6 guest rating; rooms from $229), which is centrally located near many of the city's paths and trails.
Minneapolis
Having recently been named the number one bike city in the U.S. by Bicycle Times, you can say that cycling is a major part of Minneapolis' culture. With over 1,550 bikes at 170 stations across the Twin Cities, visitors can enjoy unlimited 30-minute rides starting at just $6. Stay at the Depot Renaissance Minneapolis Hotel (4.4 guest rating; rooms from $139) for easy access to the riverfront's many bike paths, as well as the Cedar Lake Trail – a paved three-lane bicycle freeway that connects downtown Minneapolis to the region's other popular trails.
Boston
With more than 1,100 bikes at 113 stations in and around Metro Boston, travellers visiting for a long weekend can take advantage of the city's three-day bike share pass for only $12. Stay at the Hyatt Regency Cambridge, Overlooking Boston (4.0 guest rating; rooms from $199) and explore the Charles River Bike Path and the nearby university campuses. Or follow Paul Revere's famous ride and embark on the Minuteman Bikeway.
Who knows, maybe you can attempt your own #XtremeMobile stunt and make your hotel reservation while on the trails with the Hotels.com Mobile App and score an exclusive deal.