Emirates becomes the first Airline in the Middle East to use Google Now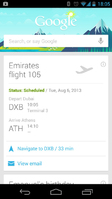 Emirates has announced that it will start to roll-out Google Now cards for their passengers who book via Emirates.com.
A feature of the Google Search app, Google Now is available and fully integrated for Android (devices running Android 4.1 and above) and iOS (iPhones and iPads).
Some advantages of the Google Now implementation for Emirates' passengers are:
Google Now is like a smart personal assistant that gives users exactly the travel information they need, when they need it, with minimal effort spent searching
The app reminds passengers of their upcoming flight, providing flight times and departure terminal
Google Now will give passengers relevant information on their destination (for example weather conditions locally, currency, local landmarks, accommodation and attractions)
Passengers will have information they need about the flight and destination delivered at the right place, right time, without having to ask or search
"Emirates prides itself on our constant innovation and working with technology partners that will enhance our passengers' experience," said Patrick Brannelly, Vice President Product, Publishing, Digital and Events, Emirates Corporate Communications, Marketing & Brand. "For users who book on Emirates.com, Google Now will allow us to deliver even more pre-flight information to our customers about their destination in a very user-friendly style and we hope our passengers find it of benefit."
Emirates is the first airline in the Middle East North Africa (MENA) region to adopt this technology and is another example of the airline embracing the latest in digital innovation, having recently also been awarded Skytrax Airline of the Year 2013. The airline has also been voted the Best Overall Passenger Experience by APEX – the airline passenger experience association (apex.aero) for the past two years.
There are 135 local Emirates.com sites worldwide, available in 16 different languages. The airline recently relaunched the site making it even easier to book online, or buy upgrades or rewards with Skywards Miles.
Google Now is available immediately for Emirates passengers who book on Emirates.com, provided they have downloaded the appropriate version of the app for their smartphone and have a Gmail account.