Abu Dhabi's Volvo Ocean Race stopover to be Cowes of Arabia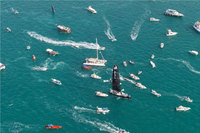 Abu Dhabi's planned hosting of the Volvo Ocean Race 2014/15 could become the key sailing and community waterfront event of Arabia on the lines of the UK's highly successful Cowes Week regatta, according to Emirati Adil Khalid who will contest the global sailing race as a member of Abu Dhabi Ocean Racing.
The UAE capital's stopover - which will run from mid-December 2014 until 3 January 2015 - is already being planned and Khalid says Abu Dhabi has all the ingredients to make it a regional sailing stand-out.
"The sight of thousands of boats gathered on the River Solent for Cowes Week is spectacular, it's amazing to see them. Abu Dhabi - where we sometimes have upwards of 100 dhows out racing - can do the same for the stopover - and we can make it, without doubt, the most important sailing and waterfront celebration in Arabia," said Khalid, who is in the UK for Abu Dhabi Ocean Racing's defence of its Rolex Fastnet Race title.
"One thing we would beat Cowes on is the weather - which can be uncertain in the UK. Abu Dhabi is highly likely to be blue skies all the way with just the right temperatures for people to get out in their droves to enjoy the spectacle."
Abu Dhabi Tourism & Culture Authority (TCA Abu Dhabi), which brought the 'Everest of Sailing' to the Arabian Gulf for the first time in 2012 and is behind its return, is planning a major activation of its waterfront Destination Village for the 2014/2015 stopover.
It is pushing forward a package-strong and tourism-driven Abu Dhabi stopover, including a fan-friendly Destination Village activation on the Corniche breakwater and multiple concert and entertainment offerings that will leverage the highly sought-after Christmas and New Year dates.
Abu Dhabi will welcome the fleet from Recife, Brazil after one of the longest and potentially most-gruelling legs in the 40-year race history (9,707 nautical miles). The Abu Dhabi Etihad Airways In-Port Race, which was won by home favourites Abu Dhabi Ocean Racing in the last edition, will take place on 2 January 2015, with the fleet departing for Sanya, China the following day.
TCA Abu Dhabi is once again working closely with a number of governmental bodies to successfully deliver the stopover, including Abu Dhabi Sailing & Yacht Club - the Official Host Yacht Club and key partner in the roll-out of the stopover and junior sailing initiatives; the Abu Dhabi International Marine Sports Club - Technical Headquarters, which will be home to the team areas and international television broadcast compound, and the Event Security Committee, Ministry of Interior, Critical Infrastructure & Coastal Protection Authority, Department of Transport, SEHA, Abu Dhabi Customs, Abu Dhabi Municipality and Abu Dhabi Airports Company.