Natural Retreats announce the opening of The Inn at John O'Groats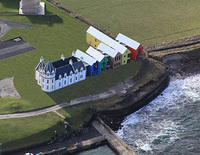 The news we've all been waiting for - Natural Retreats is delighted to announce that its revolutionary new concept in the self-catering industry, The Inn at John O'Groats has opened its doors to guests.
The restoration of the iconic former John O'Groats Hotel is part of Natural Retreats' multi-million pound regeneration of this stunningly picturesque natural wilderness in Caithness in the North of Scotland making it a wonderful UK getaway for family, friends and couples alike.
Originally built in 1875, the iconic former hotel has been carefully restored over the last two years and has a brand new Norse style extension which injects a vivid splash of colour against this rugged coastal landscape. Courtesy of interior design agency NoChintz, the interior combines high quality and new styling in harmony with the marriage of the historic former hotel and the eye-catching new extension.
The Inn boasts bespoke self-catering apartments with 1, 2 or 4 bedrooms, each with their own individual character and with the high quality one would expect from Natural Retreats. Mattresses are all British made with 1,400 springs - ensuring an uninterrupted night's sleep for even the most troubled of sleepers. Catering perfectly for those completing the famous Lands' End to John O'Groats 'End to End' challenge, The Inn provides the perfect end point.
All apartments at The Inn feature luxurious bedrooms and bathrooms with a variety of viewpoints offering breath-taking views of the dramatic John O'Groats coastal scenery across Pentland Firth onto Stroma and the Orkneys. Those west facing rooms also enjoy spectacular sunset views, and each apartment is finished using locally sourced material wherever possible, incorporating Caithness stone and Scottish larch timber, for example.
See killer whales in their natural habitat, catch a glimpse of the Northern Lights or discover your inner Indiana Jones with a spot of real-life treasure hunting; all right here in the UK at the most northerly tip of Scotland, John O'Groats.
With several weeks of the glorious British summertime left, with good weather and daylight at an all-time high and such a picturesque environment waiting to be discovered right here on our doorstep, there's never been a better time to holiday at home in the UK.
*Special Introductory Offer - saving up to 25% off!
Natural Retreats is offering 3 nights from £200 based on a 1 bedroom en-suite from 22nd August 2013.
See more at naturalretreats.co.uk/offers/2013/07/john-o-groats-inn-offer.php
Interior Design
The Inn at John O'Groats has been designed with the same ethos as the Natural Retreats residences - involving an all-British designed and manufactured offering with a special focus on Scottish makers. Natural Retreats have worked with leading British designers Naughone to modify and re-create a collection of sofas for The Inn, utilising details such as Anta buttons as well as a number of bespoke tailor-made Octagon stools for the Harbour library.
Their stable collective is in keeping with the likes of Award-winning names, Another Country, Pottinger & Cole, and Then Design & Anorak. However, for The Inn, new talent has been included featuring designers James UK, Design By Alex and Ellen Thomas. As with other Natural Retreats properties, a number of NoChintz creations have been introduced, including a purpose-built bed for the penthouse, upholstered entirely in Harris Tweed.
All of the lighting has been designed by NoChintz in collaboration with a British lighting manufacture to include a five metre chandelier fashioned entirely from Creels (lobster pots) that were made for us in specific colour ways from a local supplier (all handmade in Wick). Other features include a chandelier made from 'found' Scottish antlers and rope lights (knotted by a local fisherman for Natural Retreats on site). What's more, all way finding in The Inn has been hand painted by two artists with a specially designed font for the space which has been named 'Whale Tail'.
The location
Located on the most northern coast of the UK, Natural Retreats John O'Groats is situated amongst some of the most sensational and extreme landscapes combining awe-inspiring coastal stacks, dramatic cliffs, forests and white sandy beaches. From this most northerly tip of Scotland it's also possible to catch a glimpse of the Northern Lights! Brimming with wildlife, guests can expect to see the largest population of Harbour and Grey seals and an array of birdlife including Guillemot, Kittiwakes and most famously Puffins. Forget indoor aquariums, the coast of John O'Groats is home to the ocean's most beautiful sea creatures including Minke whales, dolphins, porpoises, basking sharks and even killer whales. Just 2 weeks after opening the first phase of the redevelopment a pod of 14 Killer Whales visited John O'Groats and were hunting Seals just 200 yards from the Inn
The Outfitters
Whether you prefer speeding around the coast on a boat ride whilst taking in the marine life, or melting away the stress and strains of everyday life with spa treatments, a Natural Retreats holiday at John O'Groats lets you explore and discover the spectacular beauty of Caithness. Providing everything needed for a range of outdoor activities, the Outfitters centre supplies equipment, clothing and supplies. Guests can book activities before their trip through Natural Retreats' Concierge service or during their stay at the Outfitters.
Activities abound in John O'Groats! Join the Natural Explorer boat ride for a sea safari around the coastline where you might see migrating Orca and Minkie whales as well as grey seals, porpoises and dolphins; head inland for a spot of 'geocaching' - a modern day treasure hunt using GPS to discover hidden beaches, abandoned piers and the wonders of nature away from the usual tourist spots; pick up a rod and try your hand at sea angling or head to the lochs for some sublime trout fishing; and a visit to John O'Groats wouldn't be complete without taking to walking trails and exploring this spectacular landscape on foot. Natural Retreats guides are able to arrange a host of walks taking in the amazing Duncansby Stacks, a magnificent rock sea stack and the incredible Shell Beach, made entirely of broken sea shells. The Outfitters also offer wreck dives, historical tours, horse-riding, day trips to Orkney and even whisky appreciation sessions as well as stocking everything you could need for a holiday exploring the great outdoors. As a champion of British manufacturers, Natural Retreats Outfitters includes equipment and clothing form top British brands such as Hunter, Antler and Highland 2000.
The Storehouse
As part of the regeneration project, Natural Retreats has worked hard to aid sustainability in the local economy. The Storehouse is an on-site co-operative shop selling local produce and goods including Old Pulteney Malt Scotch Whisky, freshly baked bread and speciality cheese. Local residents also provide the goodies found in every complimentary welcome hamper!
The Concierge Service
Guests at the Inn at John O'Groats will have full access to the unrivalled Natural Retreats personal concierge service. This team of dedicated travel professionals can personalise each holiday experience, providing advice and expertise to ensure every holiday is perfectly tailored to each guest.
For more information, visit naturalretreats.co.uk.