Fun-filled Loch Ness tour offers more than just monsters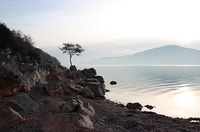 The company which has been providing 'tips only' tours of the Highlands to holidaymakers for over three years is launching a new day tour to Loch Ness. The Ness Bus is designed to fully entertain travellers - not only while at Loch Ness - but also on the journey getting there.
Entrepreneurs Donald Finlayson and Russell Shedden, who launched The Hairy Coo in 2010, were aware that a trip to Loch Ness would usually mean a long, stuffy and expensive journey in a coach. They decided to launch the Ness Bus, so that the actual journey to Loch Ness could be as captivating and entertaining as the Loch itself.
"The journey to Loch Ness is spectacular, and we want to make sure that guests don't miss any of Scotland's best sights. That's why we have designed Ness Bus to visit the most dramatic scenery of the Highlands," said Donald Finlayson, co-founder and one of the Ness Bus tour driver-guides.
Not only do guests experience the magnificent ambience of Loch Ness on an optional boat cruise, but the trip uniquely visits a Ben Nevis Whisky Distillery for an optional tasting tour. The Ness Bus will also visit Glencoe, Scotland's most famous natural wonder, the Commando Memorial at Spean Bridge, and the charming village of Dunkeld.
"We designed this tour focusing entirely on the customer experience" said Russell. "The Hairy Coo has been rated the number 1 day tour company in Scotland for three years in a row on TripAdvisor. Ness Bus has the same passionate, knowledgeable and interesting tour guides, so we hope it will follow suit!"
Loch Ness is Scotland's largest volume of fresh water sitting between Inverness and Fort Augustus in the Scottish Highlands. Over one million people visit Loch Ness each year in the hope of catching a glimpse of 'Nessie', the legendary Loch Ness Monster.
Ness Bus tours (from £37 per person) will run on Saturdays, Mondays and Thursdays year-round, starting on 26th August, and will pick up guests at convenient points around Edinburgh.
For more information, visit nessbus.com.