Ultra low insurance confirmed for MG3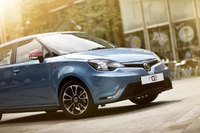 The new MG3 has been awarded a class leading Group 4E insurance rating – making it the cheapest supermini to insure with this level of style and performance features.

It will be particularly good news for young drivers who usually find the cost of car insurance prohibitively high.

But all customers will find that the new 106PS MG3 costs a lot less than similarly powered cars, has class-leading chassis and driving dynamics making it great fun to drive and the big, big bonus of ultra-low insurance ratings.

The stylish MG3 goes on sale in mid-September and pre-order deposits are being taken now. Prices range from £9,999 for the highly equipped top-of-the-range MG3 3STYLE to £8,399 for the MG3 3TIME entry model.

But the exciting MG3 has not compromised on power or dynamics to achieve the low insurance rating. The MG3 has a healthy 106PS power output, offering considerably more power than many of its competitors.

Despite being great fun to drive, the MG3 sits in the same insurance group as much lower powered models including: the 1.2-litre 84PS Hyundai i20 'Classic' which costs £9,995; the 1.2-litre 60PS VW Polo 'S' which costs £11,395 and the 1.0-litre 69PS Toyota Yaris 'T2' and 'TR' models which start at £10,695.

The new MG3 is also in a much lower insurance group than most similarly powered cars such as many Vauxhall Corsa models (Group 8 and 9) and many VW Polo models ( Group 9).

Andrew Lowerson, MG's Product Manager, said: "We've made a car that's very affordable, fantastic fun to drive and probably offers more personal styling options than any other car in its class. Now the low insurance groups have been added as the icing on the cake – it's great news.

"Only the MG3 can offer these levels of style, features and personalisation with such a low level of insurance."

All MG3 models benefit from signature front LED daytime running lights, electronic hill hold as standard, with all but the entry model featuring a high quality DAB audio system. The sporty exterior style conceals an interior that offers one of the largest and most spacious cabins in the supermini class. With six airbags, electronic stability control, corner brake control and traction control, a full suite of the latest technology safety equipment is standard on all MG3s.

But a key attraction for many people will be the fun that can be had in creating a model to their particular taste and style thanks to a huge range of colours, exterior graphics, interior colour packs and part-leather upholstery available. The whole range has been created by the UK design team and inspired by the British fashion industry.

There are four models of MG3 to choose from and a full range of options and accessories priced as keenly as the car itself, to ensure that specifying and buying an MG3 is as much fun as owning and driving it.