Live like a local in Khao Lak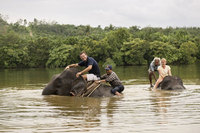 Luxury boutique resort, The Sarojin, has launched brand new "Day in the Life of a Local" tours, designed to showcase authentic Thailand and take guests into the heart of the local community. During their ventures, guests will travel to Khao Lak's rural areas and shadow a local fisherman, a Buddhist monk, an elephant mahout, a fruit farmer and a market seller as they go about their daily lives. Ideally suited for those with an interest in experiential travel, these new tours present a variety of ways to dig beneath the surface of Thailand and gain a deeper insight into local culture through a host of firsthand experiences.
Whether guests are looking for cultural immersion or simply to catch a glimpse of local life away from the tourist trail, The Sarojin's new "Day in the Life of a Local" tours offer an interactive way to discover rural Thailand. From helping to catch white grouper with a Khao Lak fisherman to scrubbing the hide of playful elephant with a village mahout, guests can enjoy a number of local experiences that cannot be found elsewhere and really feel what it is like to live as part of the rural community in a sensitive and cooperative way.
Among the range of experiences available, guests can follow in the footsteps of Roj who has looked after a family of elephants for over 14 years. Accompanied by The Sarojin's expert guides, Roj will share his Thailand with interested guests and provide a slice of his everyday life in caring for these enchanting mammals. Along the way guests will help Roj with his daily tasks, which include feeding, bathing, and riding the elephants bareback through the dense jungles that surround The Sarojin. They will also have plenty of time to interact with Roj's family, who reside in village huts amidst the rainforests on the edges of Khao Sok National Park.
Guests can also experience a day in the life a native fisherman with the help of a local named Tar. Since 1996, Tar has been a regular face in the small coastal fishing village of Baan Nam Kham where Thai fishing fleets play an important in the economy. Tar offers a superb opportunity to "go native" and travel aboard a traditional boat before teaching guests how to fish for a variety of fish, using traditional line methods and rod fishing. With their fresh catch in tow, Tar will lead guests on a breathtaking journey through the tranquil estuaries of the magnificent mangrove forest, culminating with a tour of a local fish plantation to learn about the importance of fish farming in Thailand.
Alternatively, for a true taste of plantation life, guests can take a local tour with 50-year-old Nuii, who has been running his own plantation for over 30 years. Throughout their time with Nuii, guests will help him to cut rubber trees for latex sap, which is used to produce rubber and is often a substantial source of income for the locals, and attend to his magosteen and Rambutan (native Thai fruits) farm. They will also help to collect his children from school and source food along the riverside – especially shrimp, crab and fish – to cook for the family dinner. It is a great way to discover rural Thailand from the comfort of a family home and workplace.
Local markets tend to be where guests see real local life and The Sarojin offers an excellent opportunity to experience bustling street life and meet the friendly local people who dwell there. Shadowing a local street market seller, guests will interact with ordinary Thai people going about their everyday business of shopping for food and other items. The market in Khao Lak is always a hive of activity where all kinds of people rub shoulders, both for shopping and to sell their fresh produce. The tour provides a window on market life and showcases its important part in daily Thai society.
Other experiences include a special opportunity to shadow a Buddhist monk. Guests will rise at 4am to participate in religious meditation, prayer and chanting; accompany the ordained monks for key meal times and join in giving thanks for their blessings; help with the day-to-day running and maintenance of the temple; and receive Buddhist teachings throughout the day – a wonderful way to learn about the country's most prevalent religion and gain a more authentic encounter with natural Thailand.
"Our new "Day in the Life of a Local" tours combine a five-star level of comfort with an interest in the local culture and environment," comments Kate Kemp, co-owner of The Sarojin. "It is a key hotel policy to help our guests delve deeper into authentic local culture. By engaging with our local people, guests will venture beyond the tourist paths and discover a new way of seeing things, allowing them to return home with a slice of the real Thailand and memories that will last a lifetime."
Prices for a full day "Day in the Life of a Local" tour start from THB 5,900 (approximately GBP 118) per person. Rooms at The Sarojin start from THB 6,100 (approximately GBP 135), inclusive of accommodation in a luxury Garden Residence, plus all-day à la carte breakfast with sparkling wine for two people.
For more information, visit sarojin.com.