New rooms, suites and a spa for Okura Hotels in Japan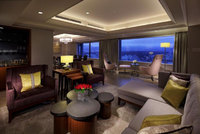 Okura Hotels & Resorts, the Japanese luxury hotel group have undertaken an extensive renovation programme at four of its 16 hotels across Japan to refurbish the rooms and suites, as well as reopen a spa.
Kyoto Hotel Okura has renovated the top floor of the hotel to provide an Executive Floor, consisting of 10 suites and 10 executive twin and double rooms.
The work has been carried out with RPW Design in London. The company has a long standing association with Okura, having worked on a large number of hotel projects within the group.
The largest room is the 226-square-metre Imperial Suite, which has a spacious entrance hall, dining room, lounge, bedroom and bathroom. It also features a number of original works of art, as well as a 50 metre long wall of windows stretching across the room, giving unspoilt views over the ancient and historic city of Kyoto.
In addition to the new rooms, Kyoto Hotel Okura has also installed brand new surround sound systems in the suites, and a wireless LAN environment in all guest rooms for ultimate luxury and convenience.
The Okura Chiba Hotel, east of Tokyo, has also completed an extensive renovation to its guest rooms with the addition of a new room category, the Superior Twin Room. These rooms are decorated in understated tones and elegant furnishings, giving each guest a relaxing and luxurious stay.
The hotel has also completed extensive renovation works on its restaurant, bar and lounge areas.
Hotel Okura JR Huis Ten Bosch, near Fukuoka in South West Japan, has reopened its 'Spa Natuur Yamano'. The hotel, which is located opposite the Dutch theme park of Huis Ten Bosch, reopened last year following a major renovation to its guest rooms, and the spa now completes this work.
The interior of the spa is decorated with neutral colours in warm tones and offers a range of treatments using organic ingredients such as Thalasso skin care products and aromatherapy treatments.
Adding to its room categories, Hotel Okura East 21 Tokyo has created eight new Deluxe Family Rooms on the 18th and 19th floor of the hotel. These new rooms offer stunning views across the city towards Japan's tallest structure, the new Tokyo Skytree.
The bathrooms have been transformed with rain showerheads, and an additional bed has been added to each room, making them perfect for small families or groups of friends travelling together.
For more information on Okura Hotels, visit okura.com.