New 170mph Vauxhall takes bow at Frankfurt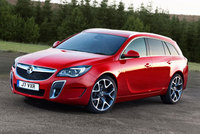 With a top speed of 170mph and power output of 325PS, the new Insignia VXR SuperSport remains the UK's fastest car you can buy under £30,000.

Now benefiting from a raft of design and chassis revisions which have been made across the entire Insignia range, the new Insignia VXR SuperSport will receive its world premiere at the Frankfurt Motor Show (September 12-22).

As before, the SuperSport is available as either a Hatch or Sports Tourer, but externally both models have received a re-styled front and rear, with signature VXR design elements such as distinctive 'saber-tooth' detailing at the front and the tailpipe trim integrated into the rear valence.

The SuperSport's adaptive all-wheel-drive chassis has also been improved, with around 60 per cent of the car's rear suspension components receiving revisions, while the car's front HiPerStruts – which prevent geometry changes during hard cornering – remain an innovative feature in this class.

Complementing this, are modifications to the ESP software for even more precise handling and control of understeer, and upgrades to the damper software as part of the SuperSport's FlexRide adaptive damping system.

In addition, NVH (Noise Vibration Harshness) behaviour has been fine-tuned to achieve greater refinement for occupants, enhancing the SuperSport's credentials as one of the UK's best-value performance saloon cars.

With six-speed manual transmission and all-wheel-drive, the new Insignia VXR SuperSport reaches 60mph from zero in just 5.9 seconds (6.1 seconds for Sports Tourer) and on to a top speed of 170mph. Its drivetrain incorporates an electronically controlled 4x4 system, operating on Haldex principles and an electronic limited-slip differential. It constantly adapts to prevailing road conditions and varies torque distribution seamlessly between the front and rear axles, as well as between the rear wheels.

Other important changes to the Insignia VXR SuperSport range include an all-new instrument panel and central console design, which incorporates optional Bluetooth-operated internet connectivity, an 8-inch touchscreen, 3D navigation and voice control. DAB is standard across the SuperSport range.

The Insignia VXR SuperSport is available to order now, and starts at £29,749 OTR for the Hatch and £31,049 for the Sports Tourer.