80,000th Citroen LCV Trafficmaster system brings new, big screen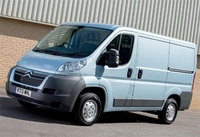 The 80,000th Trafficmaster Smartnav telematics system has just been fitted to one of Citroen's award-winning LCVs. Specified as standard on all Berlingo, Dispatch and Relay panel vans, this unique telematics package includes Trafficmaster Smartnav satellite navigation and Trackstar (stolen vehicle tracking), as well as providing the platform for optional, low cost, Fleet Director real-time fleet management services.

Fitted to the first Relay 30 L1H1 e-HDi 130 6-speed Stop & Start van in the UK, the 80,000th Trafficmaster Smartnav system introduces a new, higher resolution colour screen. This bigger 5-inch screen replaces the 4.25-inch screen previously used. It has been introduced to provide even greater clarity for the Trafficmaster map display, as well as greater clarity of the system's many functions displayed across the bottom of the screen.

Scott Michael, Citroen's Head of Commercial Vehicles & Business Centre Programme, remarked: "The unique Citroen Trafficmaster Smartnav telematics package has been specially developed to provide our LCV customers with an unrivalled range of operational, safety, security and financial benefits. The system plays an important part in Citroen's continuing commitment to reduce the carbon footprint and raise the efficiency of its LCV range."

In 2012, Citroen's unique Trafficmaster Smartnav telematics package resulted in:
Citroen LCV drivers saving the equivalent of 14,311working days due to congestion avoidance
nearly 4,000,000 routes being downloaded to Citroen LCV drivers
Smartnav Personal Assistants downloading 40,000 routes to Citroen LCV drivers
211 emergency call made through Trafficmaster by Citroen LCV drivers
major CO2 reductions & running cost savings through more efficient routing & congestion avoidance
up to 33% reduction in driver stress levels, with an associated reduction in risk & safety gains
19 out of 21 stolen Citroen LCVs being recovered − of which, 60% were recovered within 1 hour

Citroen is the only manufacturer in the UK to offer LCVs fitted with stolen vehicle tracking. In 2012, the Trackstar stolen vehicle recovery system, fitted as part of the Traficmaster Smartnav telematics package, saw 19 of the 21 Citroen LCVs stolen (76% were taken with the keys) being recovered. As a result, 15 thieves were arrested and over £300,000 worth of vehicles were recovered.

Any Trackstar-enabled Citroen LCV can be located within moments of it being reported missing. Once it has been confirmed as being stolen, Trafficmaster informs the police of the vehicle's whereabouts −even if it is still moving−allowing the police to have a more detailed and accurate location of the vehicle in order to recover it quickly.

Citroen's unique Trafficmaster Smartnav system not only provides in-depth navigation, but also works out routes to avoid traffic congestion. It does this using live traffic information gathered from Trafficmaster's unique network of 5,000 roadside cameras and real-time road speeds, to calculate the optimum route. If congestion does occur, Smartnav will instantaneously calculate all the viable alternatives and offer the fastest option, which the driver can then select with one touch of the screen.

Another feature included in Citroen's unique package is Trafficmaster's emergency call system, which drivers can use to call Trafficmaster's control centre, allowing two-way voice communication. The Smartnav system instantly provides a precise vehicle location and, in the event of a serious accident, the Trafficmaster system automatically makes an emergency call.

Citroen LCV owners also have the option of specifying Trafficmaster's Fleet Director real-time fleet management package. The low cost Fleet Director option provides fleet managers with a full range of services, including optimised routing on multi-drop runs, live vehicle reporting, two-way messaging and vehicle/driver management reports. Vans can also be 'geofenced' to ensure, and then prove, that they are not used at weekends or out of hours. The system can also be used to record when vehicles arrive and leave specific locations.