Competitively priced new Citroen Relay is now available to order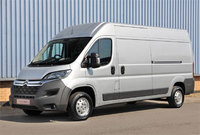 The pricing for Citroen's New Relay range has just been released, allowing orders to be placed prior to its 1 July, 'on sale' date. At the same time, specification details for the full UK range are listed at the bottom of this release.

New Citroen Relay panel vans are priced from just £19,405 + VAT for the lead-in Relay 30 L1H1 HDi 110 6-speed manual. That is only £545 + VAT more than its predecessor, with the addition offeatures that would have added over £600 + VAT to the price of the previous model. Also, the expanded and even better equipped 14-version range of New Relay Enterprise vans now cost only £800 + VAT (previously £900 + VAT) more than the standard Relay panel van.

Jeremy Smith, Citroen's Head of Commercial Vehicles & Business Sector Operations, comments; "New Relay is a compelling choice for businesses. This competitively priced and exceptionally well-equipped range delivers the highest payloads in its sector, along with class-leading load carrying practicality and low cost of operation. With its wide choice of factory-built variants and Citroen's unique range of Ready to Run specialist bodied models, there is a New Relay to economically and efficiently suit virtually any business transport requirement."

The New Relay stands out from the competition with stylish high-mounted headlights, incorporating daytime running lights. New Relay's front end also incorporates a striking new grille and chevron design as well as a large, multi-piece front bumper to minimise accident damage and reduce repair costs.

Thanks to its efficient engineering, the New Relay range offers some of the highest available payloads in its class. New Relay panel vans offer a choice of payloads from 1140 – 1995kg. The two versions forecast to be the best-sellers are the New Relay 30 L1H1 HDi 110 6-speed manual and the New Relay 35 L3H2 HDi 130 6-speed manual, which have payloads of up to 243kg and nearly 400kg better respectively than some of their main competitors.

As a result of an intensive development programme, New Relay's body structure incorporates multiple-point reinforcement to improve rigidity and durability. High use, high stress items such as the rear doors have been reinforced and higher strength door hinges are now used. Similarly, the sliding side load doors have benefited from reinforced rails, re-designed runners and improved door locks – to raise durability and security standards.

Shock absorber mountings have been re-designed and braking performance has been improved.

Citroen's advanced New Relay HDi diesel engines all have significantly improved efficiency, with up to 15% better fuel economy and lower CO2 emissions figures. New Relay panel vans in the 3.0 – 3.5 tonne GVW sector all have excellent combined cycle fuel economy of up to 42.8mpg and sub-200g/km CO2 emission figures.

Four fuel-efficient, low CO2 emissions HDi 110, HDi 130, e-HDi 130 Airdream and HDi 150 engines can be specified in the New Relay – all with six-speed, all-synchromesh manual gearboxes. These 2.2 litre turbocharged Euro 5 engines offer exceptional performance, alongside impressive fuel economy figures and low CO2 emissions.
Combined cycle fuel consumption & CO2 emissions are listed in the table at the end of this release.

As well as offering operators the benefits of fuel-efficient, low emissions engines with high payloads and ultra-practical load compartments, New Relay delivers a wide range of other financial benefits. These include extended service intervals of up to 2 years or 30,000 miles (whichever comes first) for normal operations. Backing these extended service intervals is New Relay's flexible warranty of 2 years/unlimited mileage or 3 years/100,000 miles (whichever comes first).

As a further means of improving New Relay productivity, efficiency and safety, Citroen's unique Teletrac telematics platform, is fitted as standard on all New Relay panel vans. This advanced telematics package includes Smartnav intelligent satellite navigation and Trackstar stolen vehicle tracking. The Trafficmaster telematics platform also allows New Relay operators to specify Fleet Director, a low-cost real-time fleet management system. With this standard telematics facility, New Relay operators benefit from efficient vehicle routing, avoiding traffic delays, the security of stolen vehicle tracking in the unlikely event of vehicle theft and major reductions in driver stress levels.

In a New Relay van, the driver and crew benefit from even higher levels of comfort thanks to new dark grey or black & red twill seat trim and a revised dashboard layout, which can incorporate a 5-inch colour LCD screen for the audio system and optional reversing camera. New Relay offers up to 10 in-cab storage areas, including the glovebox, a dash-mounted document clip and various open or lidded compartments on the dashboard. In addition, there are large door pockets, storage space beneath the passenger seat and a large 22-litre overhead storage compartment.
New Relay also offers customers the benefits of a wide range of optional advanced technology. The New Relay's standard ESC system can be optionally upgraded with Intelligent Traction Control and Hill Descent Control (£500 + VAT). A Lane Departure Warning System (LDWS) is available at £300 + VAT, which uses a camera mounted above the rear-view mirror to recognise whether the driver has drifted across lane markings without indicating. If this occurs, the driver receives an audible warning as well as a visual one via the instrument panel. LDWS engages at speeds over 37mph and is optionally available on all models except the Relay 40 heavy versions, where it is standard.

New Relay is also available with an optional reversing camera (£225 + VAT), which can be coupled with parking sensors embedded in the rear bumper. The reversing camera is positioned next to the third brake light and transmits images to the 5-inch colour LCD screen in the dashboard. The parking camera overlays the image shown with guidelines to make manoeuvring easy in confined spaces.

Other significant New Relay options include tyre pressure sensors (£90 + VAT) and additional LED front lighting (£150 + VAT). In addition, rear air suspension is available on selected models for £990 + VAT.