Renault family styling for the Megane line-up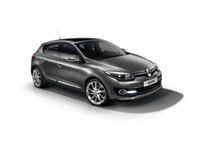 The new-look Megane family are revealed shortly before the model's official presentation at the International Frankfurt Motor Show.

As Renault continues to deploy its new design identity across its model range, it is the Megane line-up's turn to incorporate the brand's latest front-end styling.

The change ensures greater unity between the front ends of Megane Hatchback, Sport Tourer and Coupe which feature the same bumper and bonnet, although each version maintains its own distinctive identity. They are also equipped with new elliptical headlights.

The new styling identity has been carried over to the line-up's sporting models, too. Megane Renaultsport and GT Line both boast an even more dynamic stance and a new front-end design, as well as new headlights with gloss black backgrounds.

The new range is due to go on sale in the UK in the first quarter of next year.

More important details about the Renault Megane will be revealed on the Renault stand at the 2013 International Frankfurt Motor Show on 10th September.