New Ampera pricing energises the electric car market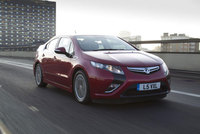 In its mission to make electric mobility more widely available, Vauxhall has reduced its revolutionary Ampera extended-range electric vehicle by £3,500, to a starting price of £28,750 on-the-road, inclusive of the Government's £5,000 grant.

The Ampera Positiv features a generous standard specification including advanced on-board computer, electronic climate control and rear view camera. The range-topping Electron model also sees a £3,500 reduction and is available from £30,495 on-the-road. Specification above the Postiv includes Bose Energy Efficient Series sound system, hard drive with 30GB music file capacity and satellite navigation system.

"Ampera's new price position brings the cost of electric motoring much nearer to that of a conventional vehicle," said Duncan Aldred, Vauxhall's Chairman and Managing Director. "It also reinforces the multi award-winning Ampera's position as the only solution to electric vehicle ownership that can be the sole family car."

Arriving in showrooms last year, Ampera has a real-world battery range of between 25-50 miles, after which a small range-extending generator, powered by a 1.4-litre petrol engine, intervenes to provide up to an additional 300-plus mile range. At all times, the Ampera's wheels are electrically driven, setting it apart from conventional hybrid vehicles.

The car is available through a network of 24 specialist Vauxhall dealers and is covered by the manufacturer's industry-leading Lifetime Warranty.