A show you won't want to miss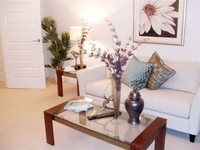 Queensberry Properties has just released for sale the stylish Carrion showhome at Woodland Grange with an offer that seems too good to be true. Not only will the fortunate buyer benefit from an impressive £17,750 discount, but the fully furnished home will provide an effortless move-in day in every sense.
Surrounded by woodland, walkways and cycle paths, Woodland Grange is located on former farmland belonging to the Duke of Buccleuch's estate on the edge of Dalkeith, Midlothian.
Offering a select collection of 20, two and three-bedroom terraced, semi detached and detached villas, the release of the showhome is the final property in the current phase of construction at Woodland Grange; such has been the positive response to this beautifully planned development.

As with all the properties at the development, the showhome has been designed to reflect and blend with the surrounding environment, with Queensberry ensuring the classic appearance of the property is offset by a number of contemporary touches. The quality of finish and thoughtful interior balances style and convenience in equal measure – elements buyers have come to associate with this innovative, niche developer.

The two-bedroom Carrion showhome aptly demonstrates Queensberry's signature style, with an interior design of understated elegance coupled with day to day practicality. The streamlined, white fitted kitchen units, natural wood effect flooring throughout and muted colour palette of soft greys, calicos and blues fashion a home that not only evokes a sense of serenity, but cleverly generates an interior that will likewise appeal to both male and female viewers of the property.
Originally priced at £152,750, Queensberry has released the showhome, inclusive of all furnishings, for just £135,000, anticipating a high level of interest which will translate into a swift sale.
Hazel Davies, sales and marketing manager on behalf of Queensberry Properties, says: "Woodland Grange is a lovely development that's struck a chord with couples and families alike. The design of the homes combined with the appeal of the location make for a setting where residents are able to enjoy easy living and take life at a slower place.
"As for the Carrion showhome, it represents excellent value for money and provides that rare opportunity for that buyer seeking a home in perfect walk-in condition; all they have to do is add their own personal finishing touches."
A former market town, Dalkeith is a much sought-after location due to a combination of good local amenities and its accessibility to Edinburgh city centre.
The town has a busy high street and the area is well served by all the necessities of modern living, from nearby supermarkets to Dalkeith High and St David's Secondary schools, both situated within Dalkeith Community Campus.
The close proximity of the A68 to Woodland Grange means the capital is less than 20 minutes by car, providing a realistic commute for those who have to work in the city, but want to live within a peaceful suburban setting.
Newcraighall Station is only a few miles from the development, with 'park and ride' facilities off Sheriffhall roundabout, and operates a regular service to Waverley Station.
For further information on the release of the showhome at Woodland Grange, visit queensberryproperties.co.uk.