Tunisia's popularity soars this summer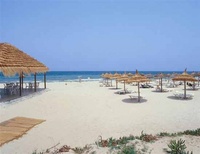 Tunisia enjoyed a bumper summer season, welcoming 287,541 Brits between January-August 2013, a boost of 29.4 per cent on the same period last year and up 22.5 per cent on 2010's record breaking tourism figures.
Last month, 55,329 Brits spent their summer holiday in Tunisia, an increase of 26.5 per cent on 2012's figures and topping the record-breaking 2010 visitor figures by 22 per cent.
"Tunisia has long been a popular destination with UK holidaymakers and these record-breaking figures are testament to our diverse and strong tourism offering. With over 3,000 years of culture, stunning natural landscapes, over 45 lavish thalassotherapy centres, and a range of boutique Dars and family-friendly seaside resorts, we are confident that 2013 will be our best year to date," says Wahida Jaiet, UK & Ireland Director for the Tunisian National Tourist Office.
"Summer may be over, but Tunisia still has plenty to offer holidaymakers looking to combine a fascinating cultural break with indulgent thalasso spa treatments this autumn. With cooler days in the coming months, visitors can enjoy a pleasant day on our prestigious golf courses or take in the impressive salt lakes of Chott el-Jerid, desert festivals and movie set locations of southern Tunisia, for a thrilling alternative to the traditional sun, sea and sand holiday," continues Jaiet.
With an average temperature of 25°C in October and at only two and half hours flight away from the UK, Tunisia is a great destination for some early winter sun.
Tunisia; the jewel of the Mediterranean, offers over 700 miles of sandy beaches; boasts over 45 luxurious Thalassotherapy centres as well as an excellent hotel infrastructure. Experience the oases, discover the Sahara, enjoy the golf, live the history. Only two and a half hours from the United Kingdom, Tunisia is closer than you think. For more information, visit cometotunisia.co.uk.
*Total UK arrivals for January - August 2013 compared to the same period in 2012.