Carthage and Roman Africa - Discover the real Tunisia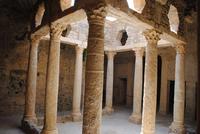 Think of Tunisia and most people envisage cheap and cheerful, all inclusive holidays with accommodation in low quality hotels, located in complexes that most people don't venture from during their entire stay.
What they are missing is a country that combines Mediterranean colour, easy ways, oriental exoticism and a long glorious history, and specialist operator Corinthian Travel knows it inside out and can create the perfect itinerary to discover it.
Home to the legendary Hannibal and capital of one of the ancient world's greatest empires, Carthage once vied with Rome for control of the Mediterranean. Three titanic struggles between these mighty empires ultimately laid Carthage low and led to the transformation of what is now modern Tunisia into one of the wealthiest provinces of the Roman Empire.
Then, as the ancient world entered its twilight years, the armies of Arabia arrived bringing a new, vibrant and exotic culture to North Africa.
For the modern day visitor Tunisia is hassle free, the most Westernised of the North African nations, and a gateway to a land of beautiful mosques, shrines and palaces; it is also dotted with Roman temples (some of the finest and 'most complete' to be found anywhere in the world), baths, villas and public buildings.
Complimenting Tunisia's cultural treasures is breathtaking natural scenery: ranging from the rippling dunes of the Sahara, to mountain oases, miles of beautiful beaches, and vast tracts of olive groves.
Leading luxury holiday company Corinthian Travel offers a variety of recommended itineraries to Tunisia including the eight-day Carthage and Roman Africa which includes visits to some of the country's most important and impressive sites.
Highlights include Dougga's stunning remains, El Djem's virtually complete amphitheatre, and the magnificent mosaics in the Bardo Museum.
There will also be plenty of time to discover on foot the intoxicating streets of the walled medieval medinas of Tunis and holy Kairouan – Islam's fourth holiest site – and a day to relax by the sea in the UNESCO World Heritage town of Sousse.
The holiday costs from £1595 pp (two sharing) which includes seven nights' B&B (plus three lunches), all transportation, entrance fees and private guides (flights extra – bookable through Corinthian Travel).
For more information, visit corinthiantravel.co.uk.
Corinthian Travel offers recommended tours and tailor-made itineraries to holidays in Egypt, Oman, Dubai, Abu Dhabi, Jordan, Tunisia and Lebanon, with dedicated expert guides, the finest hotels, and private sightseeing.