Diwali delights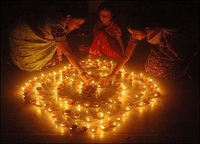 Swap the dark November nights and fly off with Jet Airways to enjoy the bright vibrant streets of Mumbai as the city celebrates Diwali. During Diwali it is customary for locals to light small clay lamps to signify the triumph of good over evil. Starting on the 3rd November, Diwali lasts five days and marks the arrival of the Hindu New Year. Arrive a few days early and you will be guaranteed to pick up some of the eye catching Diwali decorations of your own from one of the many markets including: Crawford, Mangaldas and the Zaveri Bazaar. Witness spectacular firework displays, which are believed to drive away evil. Dine out on the traditional festival foods to celebrate the Festival of Light.
Flights to Mumbai with Jet Airways start from £634 return in economy.* While flights in Premier Class (the airline's business class) start from £2153 return. Jet Airways offers double daily flights to Mumbai from London Heathrow and daily flights to Delhi. Stay at the Leela Mumbai in the heart of the commercial district for some rest and relaxation from £69 per room per night.
*All prices quoted include taxes and surcharges.
Jet Airways currently operates a fleet of 111 aircraft, which include 10 Boeing 777-300 ER aircraft, 10 Airbus A330-200 aircraft, 4 Airbus A330-300 aircraft, 70 next generation Boeing 737-700/800/900 aircraft and 16 ATR 72-500 and 1 ATR72-600. With an average fleet age of 5.35 years, the airline has one of the youngest fleet of aircraft in the world. Flights to 72 destinations span the length and breadth of India and beyond, including Abu Dhabi, Bahrain, Bangkok, Brussels, Colombo, Dammam, Dhaka, Doha, Dubai, Hong Kong, Jeddah, Kathmandu, Kuwait, London (Heathrow), Muscat, New York (Newark), Riyadh, Sharjah, Singapore and Toronto.
JetKonnect
JetKonnect is a dedicated product designed to meet the needs of the low fare segment. JetKonnect will also offer guests a Premiere service on nearly all domestic routes. With its mixed fleet of Boeings and ATR aircraft with over 500 daily flights connecting 52 destinations across India, JetKonnect provides more flexibility and choice to its guests. JetKonnect's convenient schedules, reliable service and low fares, promise to bring greater value and a seamless flying experience to our customers.
Jet Airways and Jet Konnect have a combined fleet strength of 111 aircraft and operate over 620 flights daily. For more information, visit jetairways.com.