The new Vauxhall Insignia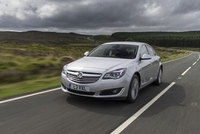 The new Insignia range made its world debut at the Frankfurt Motor Show last week before first UK deliveries start in October.

Available as a five-door Hatch, four-door Saloon and Sports Tourer estate, the new range now starts at just £16,279, nearly £2,000 less than entry into the outgoing line-up. Also available are a range-topping Country Tourer and a high performance VXR version, the fastest car available in the UK for under £30,000.

There are four new engines, including: a 99g/km 140PS 2.0 CDTi offering large cost benefits to fleet and high-mileage drivers; an all-new 1.6 SIDI 170PS Turbo petrol; and a new 250PS 2.0 SIDI Turbo petrol. Existing diesel units have also benefited from refinement improvements.

An all-new infotainment system, incorporating Bluetooth-operated internet connectivity, an 8-inch touchscreen, and 3D navigation and voice control, has full smartphone compatibility and allows drivers unrivalled communications while on the move. A DMB (Digital Media Broadcast) radio is now standard across the range.

Since its launch in 2008, the Insignia has largely dominated the mid-size sector and launched the eye-catching design philosophy that has permeated through all subsequent new Vauxhalls. The Insignia's classic exterior lines remain for the new range, refreshed styling at the back and front of the car, but inside there are important changes to its instrument cluster and centre console design, as well as improvements to control-functionality.

The Insignia's range has been simplified, too. There are now eight trims (down from 14 in the outgoing line-up), ranging from Design to Elite, with a mixture of new models that will appeal to both retail and fleet buyers. And like all Vauxhalls, the new Insignia range will come with Lifetime Warranty, allowing first owners peace of mind for as long as they own the car, up to 100,000 miles.

Vauxhall is raising its game in the highly competitive D-segment with the launch of the new Insignia. 167,000 Insignias have been sold since launch in the UK illustrating its popularity with both retail and fleet buyers, as well as its appeal to buyers who had only previously considered premium cars in the D-sector.

While the Insignia has increasingly found favour with retail buyers, much of its success has been in the fleet market with 80 per cent of Insignias going to business customers.

Vauxhall's combination of more efficient engines, premium design and state-of-the-art infotainment systems will certainly prove tempting to both company car drivers and fleet decision-makers alike.

The new Insignia's direct competitors include the VW Passat, Ford Mondeo, Toyota Avensis nd Peugeot 508. Other potential competitors include the Audi A4, BMW 3 series, and Mercedes C-class.