7,000 plastic bottles create a mega lantern to light up Hong Kong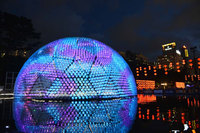 Hong Kong's Victoria Park now glows in the flickering lights of a mega lantern sculpture made from 7,000 recycled plastic bottles. The giant "Rising Moon" lantern installation is part of the celebrations of the upcoming Mid-Autumn Festival.
The lantern sculpture, the centrepiece of the "Hong Kong Mid-Autumn Festival", is approximately 10 metres in height and 20 metres in diameter, and is made from recyclable or reusable materials, including plastic bottles, steel frames, cable wires and energy-saving LED light bulbs. The designers set the installation on top of a large pond, so that the semi-spherical lantern joins its reflection under the special lighting effects, waxing and waning like the real moon.
The hemispheric lantern is accessible to the public and offers a vantage point for revellers to view the moon. Moon- gazers are in for a treat this Mid-Autumn festival as they can expect to see the biggest full moon in nine years. The full moon is set to occur at 19.13pm on Sept 19 according to the Hong Kong Observatory.
"We have calculated the exact location of the moon that evening, so visitors at the exhibition will have a perfect view of the real moon inside the 'Moon'" said Stanley Siu, one of the designers.
The installation design is the brainchild of four young Hong Kong-based designers, the concept being to bring the distant moon to earth. Drawing inspiration from daily life, the designers decided to re-interpret the lantern form using recycled plastic bottles, promoting a green message.
"7,000 plastic bottles may sound like a lot, but such an amount is actually consumed in just 15 minutes every day in Hong Kong" said Stanley.